Bernanke Prepares More Punch, Holds Off Serving It
By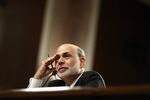 Grateful investors might confess that their punch bowl runneth over, thanks to the largesse of the Federal Reserve. After all, would the stock market have snapped back to pre-Lehman levels absent unprecedented zero-interest-rate policy, $2.3 trillion in quantitative easing, a scheme called Operation Twist, and Woodstockian amounts of dovish talk from Chairman Ben Bernanke?
But with unemployment so high, the central bank is more than hinting that it needs to ladle out even more of the good juice to do its job.
Accordingly, the Federal Reserve on Wednesday stepped forward to say the economy has slowed, and it telegraphed that more stimulus—somehow, someway, we'll get back to you on the particulars—is in the offing: "The committee will closely monitor incoming information on economic and financial developments and will provide additional accommodation as needed to promote a stronger economic recovery and sustained improvement in labor market conditions in a context of price stability." U.S. equity markets barely moved on the news.
Only 12 percent of economists surveyed by Bloomberg News had predicted the FOMC would announce a new round of large-scale asset purchases, while 48 percent had predicted the announcement would come at the Fed's Sept. 12-13 meeting. Between now and then, Bernanke & Co. can take in more unemployment data and react to how the European Central Bank moves to respond to Europe's debt crisis. Bernanke's counterpart there, Mario Draghi, sent markets rallying last week with his pledge to do "whatever it takes to preserve the euro." Last month, the ECB took its main interest rate to 0.75 percent, a record low.
The Fed did say Wednesday it will continue Operation Twist via swapping north of a half-trillion dollars of short-term debt with longer-term securities to lengthen the average maturity of its holdings. It will also continue plowing back its maturing housing debt holdings into agency mortgage-backed securities. No surprise either that the central bank did not change its statement that economic conditions would likely warrant holding the benchmark federal funds rate near zero "at least through late 2014." (Also not surprising: Richmond Fed President Jeffrey Lacker dissented for the fifth straight meeting, saying he prefers to omit the 2014 time frame; he has said he expects that interest rates will need to go up next year.)
"It's very important that we see sustained progress in the labor market and avoid deflation risk," Bernanke testified last month.
Despite the lumpy economic news, equity investors have been giving shares the benefit of the doubt, with the S&P 500 index up nearly 10 percent this year. Corporate earnings are on track to break a record.
At least one outspoken market-watcher thinks investors are increasingly less hand-to-mouth beholden to Bernanke's actions. "Don't worry over what the Fed may do," wrote James Paulsen of Wells Capital Management in a morning note to clients. "It may ease again or it may not, but the self-administered policy fix has already been implemented and it seems to be working!" Paulsen concedes that while the pace of economic growth has indeed disappointed of late, the last several months have allowed the economy to "self-medicate" with lower mortgage rates, lower gas prices, and a significant decline in consumer price inflation. "If economic reports (even if they remain weak) continue to simply outpace lowered expectations," he wrote, "investors won't care much about what the Fed may do or the latest gyrations in the Euro zone because they will likely be too busy trying to get into a stock market before it runs higher!"
Fair enough. But the ultimate test of investor co-dependence with the Fed comes when the FOMC must finally announce an end to record easing—not more of it.
Before it's here, it's on the Bloomberg Terminal.
LEARN MORE