Will Apple Join the Dow, Finally?
By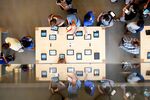 Who is more to blame: the keepers of the Dow Jones industrial average, who refuse to add Apple, the world's most valuable company, to the index because its stock price is too high? Or Apple, creation of late stubbornista Steve Jobs, for refusing to split its successful stock to conform to the Dow's peculiarities?
Hopefully, it soon won't matter. And I won't have to expend another man-hour complaining about it.
According to a research report from Sanford C. Bernstein, Apple is finally considering splitting its $600-plus stock in a way that could right-size it for entry into the venerable (ancient) blue chip index. Apple IPO'd in December 1980, finishing its first day of trading with a then-jumbo $1.7 billion valuation. Today it's worth $568 billion and represents nearly 5 percent of the Standard & Poor's 500-stock index—but fully zero percent of the 30-member Dow, the world's most cited stock market average. For comparison's sake, Apple is now worth roughly 16 Hewlett-Packards; HP has been a member of the Dow since 1997. Microsoft and Intel were added two years later; combined, they are still worth less than Apple. The Dow people are nothing if not prescient.
Apple reached Chevy-in-every-garage status during the past 10 years, as its iPods, iPhones, and iPads disrupted music, mobile, retail, and the earth's gravitational pull. In 2009 the Dow had every justification to add Apple instead of Cisco Systems. But it went with the latter. Apple—and Google, for that matter—have been denied inclusion because the shares would overwhelm the Dow, which weights components according to the otherwise incomplete data point of stock price. In other words, 3M currently affects the Dow more than ExxonMobil simply because its stock trades $4 higher—not because it's more relevant to investors than the nation's most influential and highly valued energy company.
The Dow's error of omitting Apple looks worse by the day: Its stock has since shot up from $139 to $610. At that price, Apple would throw around three times the influence of IBM, which now has the largest weight in the Dow.
Apple's decision in March to pay its first dividend in 17 years makes it more likely the stock could be added to the index after a split, according to Tuesday's Bernstein report. "We see the timing as ripe," wrote analyst Toni Sacconaghi, who noted that Apple is the only dividend-paying company with a more than $215 billion market cap that has yet to be inducted into Club Dow.
Members of the index must have an "excellent" reputation, show sustained growth, and "be of interest to a large number of investors," according to the website of S&P Dow Jones Indices, which oversees the Dow. Assuming Cupertino feels it measures up to those standards, Apple could get its opening later this year when member Kraft Foods splits itself in two.
Does it really matter? Less than $30 billion in products such as exchange-traded funds—a trickle in institutional investing—track the Dow, while nearly $6 trillion benchmark against the S&P 500.
My beef with the Dow-Apple impasse is more about the opportunity cost in investor morale. A more timely inclusion of Apple into the Dow might well have brought the index to all-time highs by now. How great would it have been to hear the evening news lead with that much-needed milestone? The world's most admired and highly valued company managed to pull off the bulk of its success precisely as the market and economy went to hell: The iPhone launched in June 2007, as word first emerged that Bear Stearns was in trouble. Apple, whose stock has since gained 400 percent, was perhaps the best, proudest thing corporate America had going for it. Great Recession be damned. Consumers wanted everything this company made, and they were willing to camp out for it.
Apple represented so much of the economic reality that the Dow Jones industrial average aspires to track. But the rules are the rules, and we were robbed. Better late …
Before it's here, it's on the Bloomberg Terminal.
LEARN MORE