Using the Olympics to Promote Small Wi-Fi Hotspots
Kevin Fitchard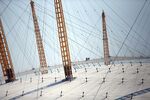 U.K. operator O2 has launched a new, free-to-use, outdoor Wi-Fi hotspot network in London just in time for the Olympics. The scope of the network isn't big—only 100 access points, compared with the 1,500 being installed by BT (BT/A:LN) for the Olympics—and it's centered in London's high-tourism West End. But there is something special about this tiny Wi-Fi launch.
O2 is using these 100 hotspot deployments as the infrastructure groundwork for a future small-cell network. Like Wi-Fi, small cells will deliver surgical capacity in high-trafficked areas. Unlike Wi-Fi, those cells will use O2's licensed spectrum, providing a big boost of mobile broadband capacity exactly where its macro network is most congested. According to O2 Wi-Fi managing director Gavin Franks, the carrier is targeting the end of the year for the small-cell rollout.
"What we have deployed so far isn't a full-fledged small-cell network," Franks says. "We have deployed a future-proof network that allows us to easily get to small cells. And obviously it's our intention to do so."
It might seem easy to task Wi-Fi nodes for double duty as small cells, but Franks says O2 had to plan its deployment carefully for the hybrid configuration. Because the dual radios will require more backhaul capacity than the DSL connections that usually power Wi-Fi can provide, O2 has to either run fiber or installed microwave-radio links to hotspot clusters, which are then meshed together via Wi-Fi backhaul. Franks says O2's mobile network planners determined the placement of each node beneath the macro network to ensure there would be no interference when the small cells went live. Finally O2 ordered up specialty outdoor Wi-Fi equipment from Ruckus Wireless that can easily support the installation of micro-cellular base stations in the future.
When the time comes, Franks says, O2 technicians will simply pop the chassis of the Ruckus access point, insert the 3G radio, and instantly have a live small cell. Ruckus makes its own 3G and LTE small-cell modules, but that doesn't necessarily mean O2 will buy them. Ruckus has also teamed with Nokia Siemens Networks to provide an integrated Wi-Fi-cellular small platform, and NSN also happens to be one of O2's primary network suppliers.
Of course, 100 small cells isn't an ambitious network. To get to a true heterogeneous network, or hetnet, O2 would need to layer thousands if not tens of thousands throughout London, providing a dense layer of high-capacity nodes under the macro network's coverage umbrella.
But Franks says O2 is  in only the first phase of its plans. This small-scale rollout will test the efficacy of small cells, as well as its free Wi-Fi model. If they prove useful, O2 will look to expand the network throughout the U.K., as well as coordinate with its parent company, Telefónica, on international launches. For now, Franks says, O2 doesn't envision creating small-cell networks on a grand scale. O2 is taking a more practical approach initially, using Wi-Fi and small cells to target high-demand areas rather than planning a ubiquitous network of tiny nodes.
Still, there is a lot of potential here for O2 to go big, if it wants to. Unlike other carriers deploying Wi-Fi, O2 doesn't plan to integrate hotspots with its mobile network or sell capacity to outside customers. "We don't see any value in charging for Wi-Fi," Franks said. "People just aren't willing to pay for it." Instead it wants to make its money through value-added services, such as selling multimedia or offering digital-wallet capabilities. If that model works, O2 could find itself putting up Wi-Fi all over the U.K.—and small cells would come along for the ride.
Also from GigaOM:
2012: Data, Spectrum and the Race to LTE (subscription required)
New Mexico Developer Suing Tesla Over Lost Electric Car Factory
Hulu Plus Lands Its Own Channel on Apple TV
Google Fiber in the Real World: Here's What's Good and What Needs Work
Starbucks to Add a Shot of Energy Efficiency to Its Coffee Shops
Before it's here, it's on the Bloomberg Terminal.
LEARN MORE