Slowness at Coach Hints at Retrenchment by 'Henrys'
The consumer segment that is the core market for affordable luxury is spooked
by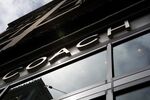 Judging from Coach's latest results, the Henrys may not be feeling great about their circumstances right now. I'm referring to the group that retail analysts identify as "High Earners, Not Yet Rich." Bloomberg Businessweek recently devoted a story to this consumer cohort. Henrys, who typically earn $100,000 to $250,000, are a core part of the market for so-called accessible luxury brands such as Coach, Tiffany, Michael Kors, and Restoration Hardware. They represent 90 percent of affluent consumers, a category that accounts for 40 percent of U.S. consumer spending.
As my Bloomberg colleague Cotten Timberlake reports, Coach on Tuesday announced disappointing sales for its fiscal fourth quarter. The largest U.S. maker of luxury handbags said that sales at North American stores open for at least a year rose just 1.7 percent, compared with a 10 percent gain in the same period a year earlier. The news caused the stock to tumble as much as 19 percent in trading this morning, the biggest intraday drop in almost 11 years.
Certainly, there's no shortage of bad economic news to spook consumers—even those who are comparatively well off. Unemployment is stuck at above 8 percent, Europe is on a slow burn, and even dynamos such as China and India are slowing. It's too soon to lay the blame for Coach's bad numbers squarely at the feet of the Henrys. Stay tuned for results from Tiffany and Michael Kors; the apparel-and-accessories maker reports numbers on August 14, while the jeweler will release results on August 29. If those retailers also showcase weak sales numbers, it will be confirmation that the Henrys, who began to loosen the clasps on their calf-leather wallets earlier this year, have retrenched.
Before it's here, it's on the Bloomberg Terminal.
LEARN MORE