PokerStars Strikes U.S. Deal to Buy Full Tilt Poker
By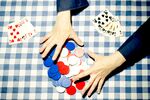 The world's largest Internet poker company, PokerStars, announced on Tuesday that it has reached an agreement with the U.S. Department of Justice to acquire Full Tilt Poker, its beleaguered former competitor that owes players around the world hundreds of millions of dollars in payouts. The settlement is worth at least $731 million.
As part of the agreement, Isle of Man-based PokerStars will pay the U.S. government $547 million over three years, which will be used in part to reimburse former U.S. customers of Full Tilt Poker, whose accounts have been frozen for more than a year. PokerStars will also directly reimburse non-U.S. Full Tilt customers $184 million.
To newcomers, it may seem odd that the DOJ is involved in brokering a deal between two online poker giants. After all, online poker is illegal in the U.S., and according to a 2006 law, U.S. banks are not permitted to process payments to offshore gambling websites.
The genesis of the deal goes back to April 15, 2011, a date known throughout the poker world as Black Friday.
On that day the Justice Department, led by U.S. Attorney Preet Bharara of the Southern District of New York, indicted 11 men that had connections with PokerStars, Full Tilt, and a third, smaller site—Absolute Poker—charging them with bank fraud, money laundering, and illegal gambling offenses. All three sites were seized without warning and shut down. To date, seven of the 11 men have been arrested, according to Bloomberg's Christie Smythe and Chris Dolmetsch.
In the wake of Black Friday, PokerStars quickly paid out players whose accounts had been frozen and continued its operations outside the U.S., though the company's legal issues with the DOJ remained unsettled.
Dublin-based Full Tilt, meanwhile, was a financial mess. Trouble retrieving payments from players and third-party financial institutions had led to a massive cash shortfall. In a complaint (PDF) filed last September, the government alleged the company covered that up by crediting player accounts without actually transferring funds, adding that Full Tilt owed $390 million to players around the world but had less than $60 million in its bank accounts. The lawsuit also accused Full Tilt's owners of having pocketed more than $440 million. The company's operating license has been suspended since June 2011.
Despite financial and legal woes, Full Tilt remained attractive to investors because of its top-notch software and vast player database. "It's a beloved brand," says Alexander Ripps, a legal analyst at Gambling Compliance in Washington, which tracks the global gambling industry. "They say any publicity is good publicity—well, Full Tilt got about the worst publicity you can imagine, but they're so well-known."
PokerStars spokesman Eric Hollreiser now expects Full Tilt to go live within 90 days of the formal deal close, which he says will likely happen in the next week. "It's too early to begin disclosing many details about our strategic plans for Full Tilt, but our first order of business is to reopen the site, pay back all of the players, and begin rebuilding Full Tilt's reputation," Hollreiser wrote on the company's blog. On the phone, Hollreiser adds that Full Tilt will be run as a separate brand. "We think that will actually help grow the market," he says. "Our research and conversation with players tells us that people like to play on more than one site, and [the] Full Tilt brand was much loved."
PokerStars plans to keep Full Tilt's Dublin offices and retain a couple hundred of the company's employees. Full Tilt's management will, however, be replaced, and regulatory oversight will be transfered to the Isle of Man.
According to the terms of the DOJ settlement, PokerStars does not admit to wrongdoing. And while neither PokerStars nor Full Tilt is currently open to U.S.-based players, both companies will be permitted to apply to U.S. gaming authorities to offer "real money online poker" if the highly lucrative game is eventually legalized.
"We are delighted we have been able to put this matter behind us, and also secured our ability to operate in the United States of America whenever the regulations allow," said PokerStars Chairman Mark Scheinberg in a press release.
As for the DOJ, Preet Bharara released a statement, saying: "Today's settlements demonstrate that if you engage in conduct that violates the laws of the U.S., as we alleged in this case, then even if you are doing so from across the ocean, you will have to answer for that conduct and turn over your ill-gotten gains."
Before it's here, it's on the Bloomberg Terminal.
LEARN MORE