One Startup's 'Free Food Truck Fridays' Experiment
By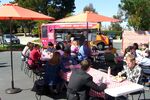 One afternoon each month, dozens of programmers in Redwood City, Calif., partake in what Kiwoba Allaire calls Free Food Truck Fridays. Allaire, the office manager for the digital advertising startup Rocket Fuel, says employees have been happier and healthier since she started the event in February. "It's like lunch slash recess," Allaire says. "When I got here, they were eating greasy Chinese food and greasy Mexican food. I said, 'Oh, no, no, no, I'm changing this.'"
Computer programmers can be a high-maintenance bunch. Google and Facebook, which have each poached employees from Rocket Fuel and countless other startups, have conditioned coders to expect perks such as free meals and recreational time at work. Young companies, in particular, find it difficult to satisfy those demands under their tight financial constraints, but some have found a solution on four wheels. Instead of building a kitchen and hiring a culinary staff, as is increasingly common among larger tech companies, startups hire food trucks to roll in regularly.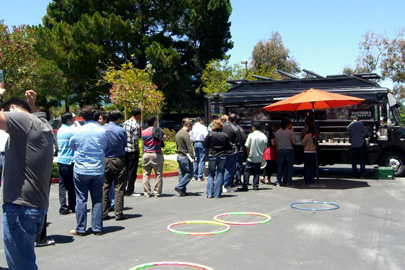 Twilio, which makes software development tools, alternates between prepaid food trucks and catering for its almost 100 employees based in San Francisco. The deliveries have included Kenyan dishes, German sausages, and barbecue. "Having our own kitchen sounds awesome someday, but I don't think we'll get quite that diversity," says Natasha Whitledge, Twilio's office manager. The company plans to move next year to an office nearby that's four times the size, but Whitledge isn't sold on staffing a kitchen. "This is working," she says. "People are hanging out more. It's definitely good for our culture."
Hiring a mobile food service outsources the headaches of managing in-house food preparation, says Matt Cohen, who runs the Bay Area's Off the Grid food truck events. "Just like we wouldn't go into a tech company and presume to know what platform to program on," Cohen says, "they just want to focus on building great products."
Despite what you may have heard about techies' aversion to the sun, employees welcome an opportunity to get out of the office, even if it's just a trip to the parking lot. GameFly, the Los Angeles-based video-game-by-mail rental provider, started bringing in food trucks earlier this year after Sean Spector, the company's co-founder, became obsessed with a Twitter-savvy Korean barbecue truck called Kogi. Hiring a truck costs the company as little as $700 to feed its 100 or so employees twice a month, he says. "The reality is that people don't want to eat at the office every day of the week," Spector says. "It's an added perk to working here. It's very social." It's also tougher to get to good restaurants in the sprawling city. "In L.A., we have a 'work island effect,'" says Matthew Geller, who runs the Southern California Mobile Food Vendors Association. "How many times can you eat at the same two to three restaurants?"
Austin, Tex., was a pioneer of the food truck movement, and tech startups there have been early adopters. The 200 employees at Razorfish, a digital marketing firm, were given tickets to redeem their lunches from the P. Terry's hamburger truck that was parked across the street a few weeks ago, says Mike Appel, the office's managing director. Cheers could be heard recently at the office of Vertive, a publisher of coupon websites with about 50 employees, when the companywide e-mail went out saying the Peached Tortilla truck was on the way, says Howard Schaffer, a company vice president. "It allows them to eat healthy and stay at the office," he says. Added expense aside, offering healthy meal options has become a best practice for employers, says Bruce Elliott, a manager at the 250,000-member Society for Human Resource Management.
Four months since Curry Up Now came to Rocket Fuel on the first Free Food Truck Friday, the monthly program is starting to pay off, says Allaire. More employees are coming into the office instead of working from home, and the former employees who went to work at larger competitors are turning green with envy, she says. "I had one employee who went to Facebook, and he came down the hall and said, 'Oh, Kiwoba, I miss the food here,'" she recalls. "Now, it's kind of a recruiting tool. People are having their candidates come in on Friday."
Before it's here, it's on the Bloomberg Terminal.
LEARN MORE