Olympic Gymnast Dominique Moceanu on the Cost of Elite Training
by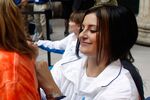 The U.S. women's gymnastics team won its first gold medal in 16 years on July 31. Dominique Moceanu was part of the team that won gold in Atlanta in 1996. She spoke with Senior Editor Diane Brady shortly after the publication of her recent memoir, Off Balance, on the cost of competing at the elite level.
Why write a book now?
It took me about seven years to write. This was a healing experience. I needed all that time to digest what I'd gone through as an elite gymnast. It's not an easy thing to talk about, especially when your former coaches are such powerful people in gymnastics. Training with Bela and Marta Karolyi took the joy out of the Olympics for me. I look back and feel there was a lot of verbal and physical abuse. For years, I felt it was my problem.
Some coaches yell but succeed in pushing athletes to new heights. In football, these guys often end up revered by their own players.
In football, you're dealing with grown men. In gymnastics, you're dealing with prepubescent teenage girls. There's a huge difference. At that age, you're not confident enough to have a voice. I don't think ethical people deal with intimidation as a method to achieve success. Undermining someone's self-esteem isn't a method to achieve success. We're light-years away from defining what abuse is in our sport, light-years away from facing the realities of being at these elite training camps.
What are some of the realities?
I think hiding injuries is still a problem. There's this win-at-all-costs mentality. You can be so banged-up at Olympics time, so tired. I came into the Atlanta Games with a leg injury that had hurt my performance at the U.S. Nationals. I said it hurt; I was told to ignore it. As a 14-year-old who was 70 pounds and 4-foot-4, I was made to feel fat all the time. I was weighed in front of my teammates and felt humiliated. That shouldn't be how we achieve success.
You won your gold at 14. That's not even allowed anymore.
No. You have to turn 16 in the year of the Olympics. My former coach believed the prepubescent girl had the perfect body type, the right mindset to compete. You can push your body more and do more repetitions when you're younger.
(As head of the Romanian squad), he coached Nadia Comaneci. That pretty much changed the sport. (She was 14 when she made history with seven perfect scores at the Montreal Olympics. Olga Korbut was 17 when she won gold four years earlier in Munich.) You used to have young women competing. Suddenly, you had to be a girl.
Now there is a limit.
But we're still not protecting the girls; these national team training camps are too hard on your body. When I went to the national team training camp in 2006, it took me three weeks to recover because my back felt like it was broken. Every Olympics cycle, there's always so many injuries. People say it's part of the sport. That's true to a point. But it's a continuous theme in gymnastics. It doesn't have to be.
Is it more of a problem in the U.S. or does this permeate the culture of the whole sport?
It's a common theme throughout our sport at the elite level, but some countries do have healthier approaches. But some coaches also insist that's what it takes. I'm arguing against that. I think having a win-at-all-costs mentality ultimately undermines. It's also a coaching issue. Some of them think that's what it takes to win. It doesn't.
Are you glad you did gymnastics?
It's the greatest sport in the world. It's the most beautiful and graceful sport in the world. I got so many great things from the sport. My children do it, but my husband and I will make sure they have coaches who nurture them. I don't mind sacrifice. I don't mind discipline. But a good coach allows people to blossom. I've seen that. I didn't have it.
So many gymnasts dream of getting a gold medal. How was the moment for you in Atlanta?
I felt success without fulfillment, to be honest. I went through a lot to get there with my teammates. I'd always wanted it. I was part of one of the greatest American moments in gymnastics. Looking back, I appreciate that and I'm proud of that. But at that point, I didn't have a lot of self-esteem. And I felt abandoned by my coaches after winning the gold.
Do you keep in touch with the rest of the 1996 women's team?
Two of my former teammates reached out to me about the book. Maybe others had a different experience. Dominique Dawes and Amanda Borden had some kind words. They texted me. That was really nice. I appreciated that, and it meant a lot coming from two women I respect.
Any official feedback?
At the national level, they've declined to comment. I saw a statement from the Karolyis that said they knew me as a child and wish me the best. I think these are issues we need to talk about, and need to be addressed.
When you watch the Olympics now, what goes through your mind?
I do look at their faces and body language. I look at how they interact with their coaches when they finish their performance. You look at the way they sit in the chair and such. I know which coaches don't handle it well when there's a bad performance. I still hear stories, but I hope that they are having a great experience there. They work so hard to get there. This Olympics, I think it is Team USA's time to win. The girls are world champions going into this. They'll have a great competition. I just hope they have a great experience, too.
Before it's here, it's on the Bloomberg Terminal.
LEARN MORE