Mortgage Help Turns Macabre for One Homeowner
By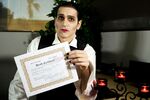 Struggling homeowners looking to get their mortgages modified often describe the experience as frustrating and Kafkaesque. The tale of De Veau Dunn, an independent filmmaker living near San Diego, shows that it can even become macabre.
We wrote about Dunn last week as an example of a lucky homeowner who refinanced his mortgage recently though a government program. Dunn's story, though, started a year ago, when he first tried to refinance his 6 percent mortgage and learned he didn't qualify because he owed much more than his home was worth. Instead, he asked Bank of America to modify the loan to lower his monthly payment through the Making Home Affordable program (aka HAMP). "They make you believe that it will take 30 days or so, and it all seems really, really good," Dunn says. He submitted various forms and paperwork—pay stubs, tax returns, bank statements—but says the bank kept requesting new documents or demanding updated copies of items he already had submitted.
In September came another document request, this time with a dark addition. The bank's letter asked Dunn for "a copy of the death certificate of the deceased borrower." The problem is that Dunn is the only borrower on the loan. The bank, in essence, wanted Dunn to submit his own death certificate. "It's obviously absurd," he says, adding that the request upset him and his wife. Dunn says his main contact at the bank was horrified and elevated the problem to superiors. A month later, Dunn received a package. "I'm like, 'Sweet, my loan mod is here,'" he says. That letter, though, again asked for the death certificate and added a request for proof of death benefits, saying if BofA didn't receive the information in two weeks, Dunn would be deemed ineligible for a loan modification.
Bank of America spokesman Rick Simon says that the death certificate requests came because of an "inadvertent clerical entry." He says that Dunn didn't qualify for a HAMP modification because he was not at risk of "imminent default," as required by the program, adding that the bank instead offered to refinance Dunn's mortgage. In its most recent quarterly report, the bank said it had completed more than 1 million loan modifications since January 2008.
For his part, Dunn was outraged and decided to put his filmmaking skills to work. He recruited some actor friends and over a weekend shot a short film chronicling his story. He edited it and posted on a YouTube channel he called "Banking Bad." Plenty of homeowners take to airing their grievances on YouTube, often spouting off in front of a webcam. Dunn's creation stands out for its higher production value and at times humorous writing. To date nearly 17,000 people have viewed the film.
That was also the point when Dunn decided he no longer wanted to be a Bank of America customer. Mortgage broker Justin Sheftell at Courtesy Mortgage helped Dunn find one of the few banks that would work with new customers looking to refinance underwater mortgages under a federal program. (As we explained last week, Dunn was lucky because the program isn't reaching many borrowers who owe a lot more than their homes are worth.)
The runaround has plagued borrowers trying to take advantage of HAMP since the program started in 2009. I heard these complaints soon after it started, when I regularly spoke with homeowners for the nonprofit investigative newsroom ProPublica. After three years, I still hear many of the same stories and problems. So it's not surprising that of the $45.6 billion the Treasury Department earmarked for housing programs, just $4.5 billion has been spent, according to a July 25 report (PDF) by the inspector general for the bailout.
That means 90 percent of the funds to help homeowners remains unused, even with the housing market still a long way from normal.
Before it's here, it's on the Bloomberg Terminal.
LEARN MORE