Modern India, by Candlelight
Two blackouts expose the state's inability to build a grid
By , , and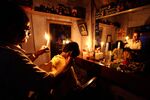 Northern India's electricity returned with a pop on July 31 as light bulbs in south Delhi exploded, refrigerators groaned from the surge in power, and electricity sockets spat smoke. Twice in two days much of India lost electricity in back-to-back grid failures. While the return of power brought relief, it also fried appliances. Surge protector sales jumped at New Delhi's Pankaj Electronics, as did sales of light bulbs and fuse boxes at Kotla Mubarakpur market.
On Day One, nearly 360 million people—roughly the population of the U.S. and Canada—lost power across seven states in northern India when excessive demand and a shortfall in hydropower overwhelmed the system. Some 12 hours later power resumed in the capital—only to fail again the next day, with the chaos spreading to Calcutta and other parts of eastern India, affecting 640 million Indians. Crematoriums in Delhi switched back to wood, tax authorities extended the deadline for filing returns, and stock analysts recommended shares of power equipment makers in anticipation of more investment in the grid.

The blackouts "have created a huge dent in the country's reputation," Chandrajit Banerjee, director general of the Confederation of Indian Industry, said in a statement on July 31. U.S. companies hope the chaos lights a fire under the government. "It is time to ramp up capacity in the power sector on a war footing," GM India Vice President P. Balendran said in an e-mail. "This is essential to attract investors." GM's India operations were unaffected by the blackout.
Officials blamed forces beyond their control. India depends on the summer monsoon for much of its annual rainfall but the rains have been disappointing this year, delivering only 80 percent of the average. During the first six months of India's fiscal year, the hydroelectric power supply, which accounts for one-fifth of India's 205 gigawatt generation, has fallen 19 percent. The state dominates power production, with the private sector accounting for only 27 percent of generation capacity. "The power ministry has made this industry financially unviable, and until they set it free it will continue to run into problems," says Rohit Singh, an analyst with IDBI Capital Market Services.
The government mandates that state-owned Coal India sell to power producers at a discount of about 75 percent of the market price, but the company hasn't been producing enough coal to meet power industry demand. Michael Parker, an analyst in Hong Kong with Sanford C. Bernstein, puts the shortfall at 60 million tons a year. And with the rupee's 26 percent slide against the dollar over the past 12 months, importing coal isn't an option.
The state-owned coal company has struggled to keep up with demand in part because of restrictions from the government on new mining. Many coal deposits are in the forested regions of eastern India, whose inhabitants want the forest to remain untouched and where Maoist rebels are active. The government ended the restrictions recently but the coal industry is still feeling the impact, says Salil Garg, director of energy and utilities for Fitch Ratings India. Another problem: From 30 percent to 50 percent of the electricity produced gets siphoned off by people who don't pay for it, Bernstein's Parker says. Local politicians don't necessarily want to stop this. "You need the political will at the state government level," says Parker, "because cheap or free electricity is popular."
The power ministry has commissioned a task force to report back within 15 days on causes of the failure. Prime Minister Manmohan Singh's government wants to spend $400 billion on power sector investment, adding 76Gw of capacity. That's on top of the 85Gw of power that India has added in the past 10 years. The government is also raising the prices consumers of energy pay: It's now mandatory for states to revise rates yearly. Some states hadn't raised the cost of power in eight years.
Those steps won't be enough, says S.L. Rao, former chairman of the Central Electricity Regulatory Commission. "Heads should be rolling," he says. "This is the biggest problem facing the government—and I don't see anyone trying to solve it." Private sector companies such as Reliance Power "can set up a world-class refinery, but the government can't put in a proper road," says Rajeev Malik, a senior economist with CLSA in Singapore. "If there were an Olympic contest of the worst politicians," he says, "India would be No. 1."
BOTTOM LINE -
The bottom line: The Singh government wants to spend $400 billion expanding India's power grid, which is under tremendous strain.
Before it's here, it's on the Bloomberg Terminal.
LEARN MORE