As France Drives to a Labor Showdown, Vacation Intervenes
Despite the crisis, Europe still vacates
by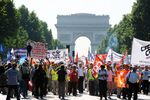 On July 12, French automaker PSA Peugeot Citroën (UG:FP) presented François Hollande with the first major crisis of his presidency. In an effort to stem widening losses, Peugeot announced it would lay off a total of 14,000 workers, one of the biggest industrial downsizings in the country's recent history. French President Hollande called the plan "unacceptable," and his government ordered an independent expert to deliver an emergency report by the end of July.
What happened next helps explain why Peugeot—and much of France Inc.—struggles to compete in the global economy. On July 30, the government announced that the Peugeot report would be delayed until Sept. 10. The reason: Most of the union leaders and government officials who were to be consulted on it are on vacation. Never mind that the fate of one of the country's biggest private employers hangs in the balance.
Long vacations—a minimum five weeks annually in France—are a cherished tradition across much of Western Europe. Advocates contend that a one-week or two-week break generally isn't enough to recharge people's batteries. More time off improves their productivity when they return to work, the argument goes. That might be true, but when emergencies arise during vacation periods, the reaction can be painfully slow.
Contrast Peugeot's situation with what happened to Chrysler and General Motors when they plunged into the red during the global recession. From December 2009 to July 2010, both companies received emergency government bailouts, entered bankruptcy proceedings, and emerged with new ownership. "Within six months, they pressed the reset button," says Erich Hauser, an auto industry analyst with Credit Suisse Securities in London. In France, he says, "it's a very different mindset."
The vacation season also has complicated prospects for action on Europe's debt crisis. Key policy makers such as German Chancellor Angela Merkel and her Finance Minister Wolfgang Schäuble are away; the Élysée Palace says Hollande will leave on Aug. 1 for a three-week break. "The markets are clearly very unsettled" because there are no summits and meetings of policy makers to focus on, says Sarah Hewin, head of research for Europe at Standard Chartered in London.
Not all work has stopped: Before leaving town, government leaders ordered the European Commission staff to labor through August on a draft plan to create a cross-border banking union for European financial institutions. And Greece's new prime minister, Antonis Samaras, isn't taking any time off. "No one is going away on holiday, and the prime minister has underlined this," government spokesman Simon Kedikoglou said in a July 25 interview on Greek television. "The ministers should be at their offices from very early in the morning."
Generous vacation requirements are especially burdensome for French employers. Under the country's 35-hour workweek law, employees of big companies get the rough equivalent of two weeks' annual paid leave in addition to their five-week minimum vacation. Add to that France's cumbersome labor code, including costly layoff procedures, and the country's labor costs are now the second-highest in Europe, after Belgium—and 20 percent higher than in Germany, where unions and management hammered out labor reforms a decade ago. France since 2002 has lost more industrial jobs than any European country, and the layoffs are continuing. Drugmaker Sanofi and telecom equipment maker Alcatel-Lucent have announced a combined 13,000 job cuts this month.
Peugeot has been steadily losing market share in Europe to more efficient competitors such as Volkswagen (VOW:GR) and Korea's Hyundai (005380:KS). At home in France, it still has about 30 percent of the market, just behind Renault (RNO:FP), thanks in part to government cash-for-clunkers programs from 2008 to 2010. Now, though, there is a "golden opportunity for competitors," analyst Hauser says. "If I were in the strategy department at Hyundai, I'd say, 'We've got a sitting duck here.'"
Before it's here, it's on the Bloomberg Terminal.
LEARN MORE