Who Gets to Tweet What From London?
The rules of social media at the Olympics
By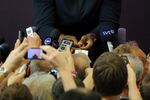 So far at the London 2012 Olympic Games, we've learned that openly racists tweets will get an athlete sent home. Greek triple jumper Voula Papachristou got the boot for a tasteless joke about Africans living in Greece. And we've learned that athletes, or at least Australian swimmers, who pose with pump shotguns and semi-automatic handguns and post the picture to Facebook can stick around, though not without being asked to stay off social networks.
But now that 11,000 athletes and their retinues and 25,000 journalists are settled in London, and nearly all are carrying smartphones, the Games will be awash in tweets, posts, and Instagram photos. So just who is allowed to do what on the Web? And who's watching?
The International Olympic Committee's guidelines encourage athletes, coaches, and sponsors—anyone with a lanyard and ID around their neck—to use social media, but draw a line between media and the rest. Non-media are asked to write in a "diary-type format" and "not in the role of a journalist." They "must not report on competition or comment on the activities of other participants," which sounds like a pretty dull diary. Athletes and others who take pictures inside the Olympic Village are supposed to get the subjects' permission before sharing anything.
Andrew Mitchell, a media relations manager for the International Olympic Committee, writes in an e-mail that the IOC doesn't expect many athletes to double as reporters "because they will be so focused on competing." Still, the athletes have better access than most media. Especially when their own events are over, why not boost a Twitter following with some Olympic Village gossip? Expect plenty to test the line between diary and reportage. Expect the IOC to look the other way unless something is big enough and damaging enough to become a story. "I think that's just trying to protect the branding more than anything," say Bruce Johnson, a media litigator with Davis Wright Tremaine.
Members of the media have more freedom and may post anything "for bona fide reporting purposes," including live reporting on the action. "[That] gives you pretty wide ambit," says Johnson. But a print journalist cannot play photographer nor post video, since that would trespass on the broadcast rights the IOC sold for roughly $2 billion around the world. With NBC streaming every event online to cable subscribers in the U.S., there probably isn't much appetite for amateur footage of the competitions. But plenty might like to see grainy footage of, say, Kate Middleton yawning at a tennis match. The IOC knows it can't monitor every Twitter feed and Facebook page, so it's appealing to the goodwill of those with access. They all trust, writes Mitchell, "that people will understand that the Games could not take place as they do without the support of our rights-holding broadcasters."
Still, the IOC has 70,000 extra eyes and ears on the ground. And I can attest that a volunteer in head-to-toe Adidas logos is there with a jolly "hello" to help at every turn, and to pounce when a reporter crosses the aisle between media and VIP seating. I'll let you know how long they take to find me when I try to shoot video of the Dream Team, though if they show me the door, Johnson warns, I'll be on my own. "The IOC operates generally outside the law," he says. "They have a great deal of maneuvering room."
Before it's here, it's on the Bloomberg Terminal.
LEARN MORE