Who Gets to Tweet What From London?
The rules of social media at the Olympics
By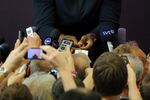 So far at the London 2012 Olympic Games, we've learned that openly racists tweets will get an athlete sent home. Greek triple jumper Voula Papachristou got the boot for a tasteless joke about Africans living in Greece. And we've learned that athletes, or at least Australian swimmers, who pose with pump shotguns and semi-automatic handguns and post the picture to Facebook can stick around, though not without being asked to stay off social networks.