What Does Apple Need Twitter For, Anyway?
by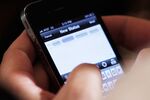 A flurry of weekend rumors that Apple might buy a stake in Twitter have been quashed, as sources tell Bloomberg News that negotiations between the two companies broke down more than a year ago. But would a piece of the social network have been worth the price?
The deal on the table valued Twitter at more than $10 billion, the New York Times reported Friday, and would have cost Apple hundreds of millions of dollars. The world's most valuable company certainly has the dough—it has more than $117 billion of cash and liquid investments—but likely shied away after doing the cost-benefit analysis, says Horace Dediu, an industry analyst with a focus on Apple. "It may have hit a rock in terms of making sense financially," he says.
It's not just that monetizing apps and communication services is a challenge, Dediu says. (Apple's app and music stores break even, he notes, and products like iMessage and FaceTime aren't revenue drivers.) Making Twitter an Apple product would mean limiting its audience, and its value.
"The control point for Twitter is the API, how much they allow third parties to utilize their users and information about their users," says Dediu. "The asset may be worth more to someone who's willing to make it as broad as possible."
Everything Apple does is meant to enhance the stupendous profitability of its core business: iPhones, iPads, and its other devices. The success of those gadgets is due to an evolving combination of design, software, media, and now services such as iCloud. "If they can attach additional services, it may make sense for Apple to attach a social network to the product which is unique or at least works better on their devices than on competing devices," Dediu says.
Even for Apple, a nine-figure investment is a lot of money. If the company wants to pair a hot service with its hardware, Dediu says, it's much better off picking one that offers a disruptive entry into communications—a Skype or an Instagram—but remains largely unknown. "What I think Apple might be looking for are these technology gems with low penetration in the market," he says, citing Siri as an example.
Though Twitter has certainly been disruptive, Dediu says he expects plenty of investment opportunities to come. "Twitter is only the beginning in terms of how people communicate socially," he says, mentioning networked productivity tools like SlideShare as a frontier. "We haven't even seen the beginning of what can happen when you couple social with the desktop tools that we used for decades."
Before it's here, it's on the Bloomberg Terminal.
LEARN MORE