Wal-Mart Surges as Economy Sputters
By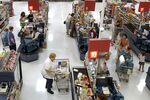 Remember that old bit about watching out for falling prices?
Well, shares of Wal-Mart Stores hit an all-time high of $74.80 on July 27, having recently pierced levels they haven't visited since 1999. The stock's 25 percent year-to-date return is nearly triple that of the Standard & Poor's 500 index. Over the past 13 years, the chain that put Bentonville, Ark., on the map went from earning $4.4 billion on $137 billion in revenue to now clearing $16 billion on sales of $446 billion. Unemployment has since more than doubled from its New Economy-charged days of 4 percent.
Wal-Mart's high, which comes on its 50th anniversary, speaks volumes about the economy and market.
I first learned of the milestone in a rather terrifying note put out earlier in the week by Gluskin Sheff Chief Economist David Rosenberg. He wrote:
"This is looking more and more like a modern-day depression. After all, last month alone, 85,000 Americans signed on for Social Security disability cheques, which exceeded the 80,000 net new jobs that were created: and a record 46 million Americans or 14.8 percent of the population (also a record) are in the Food Stamp program (participation averaged 7.9 percent from 1970 to 2000, by way of contrast). … Increasingly, the U.S. is following in the footsteps of Europe of becoming a nation of dependents."
Rosenberg then highlighted Wal-Mart as a beneficiary of investor ardor for companies that cater to a "deflationary trendline." "So even in this tough macro and market environment," he wrote, "there are ways to put money to work—in areas of the market that generate a reliable dividend stream for investors and produce a product that people need, not what they want."
Which immediately made me think of how, in September 2010, Wal-Mart's U.S. chief admitted at a Goldman Sachs conference (of all places) that on the last day of every month, "it's real interesting to watch. About 11 p.m., customers start to come in and shop, fill their grocery basket with basic items … and mill about the store until midnight. Our sales for those first few hours on the first of the month are substantially and significantly higher. If you really think about it, the only reason somebody gets out in the middle of the night and buys baby formula is that they need it, and they've been waiting for it."
In better times, it was all too easy to reflexively criticize Wal-Mart, which had its hands full deflecting charges that it was a mom-and-pop-store-killing, labor-abusing race to the bottom. In 2005, as the economy bubbled along, Wal-Mart learned that its predominantly low- to middle-income customer base was perhaps too susceptible to soaring gas prices (you'd think pump-pinched consumers would spend more time at Wal-Mart). The NIMBY-inspiring brand still gets hostile receptions at some county zoning-board meetings. Wal-Mart stock has been dead money for more than a decade.
One economic collapse later, it's apparent that bad times are good for business, and the market called it. Bernard Sosnick of Gilford Securities notes that Wal-Mart was the best-performing big-cap between 2007 and 2009, a stretch that saw the S&P 500 get cut in half. The retailer has since been one of only a handful of blue chips to break past its Irrational Exuberance-era highs—despite (or because of) an economy that is anything but exuberant.
Before it's here, it's on the Bloomberg Terminal.
LEARN MORE