Tinker, Tailor: MBA Curriculum Change Modest at Best
Alison Damast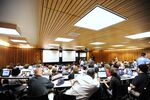 In the last two years, U.S. business schools that have announced major overhauls of their curricula include some of the most well-known MBA programs in the land. In 2010, Wharton introduced flexibility to its core curriculum, and offered graduates a free executive education course every seven years for life. Haas restructured two core courses and added new courses, workshops, and coaching sessions, all stressing analytical thinking and creativity. In 2011, Harvard Business School approved a required first-year "field immersion" course—Harvard-speak for showing the entire MBA class the door and telling them to come back when they learned something. Not to be outdone, Kellogg in February announced plans to shrink the size of its flagship MBA program by as much as 25 percent and reorganize the coursework around four key areas.
Skimming the headlines might give the impression that such radical overhauls are the norm, but a new study suggests they're actually the exception that proves a rather depressing rule: that when it comes to curriculum change, at least in the last few years, B-schools have tended to tinker around the edges. The triennial Curricular Innovation Study, by the MBA Roundtable, a nonprofit group of business schools focused on MBA curricular design and innovation, was conducted in February and March of 2012, and examined 254 MBA programs representing 171 schools around the world.
Three years ago, more schools were making changes to the core curriculum, partly in response to the fallout from the global economic downturn. Today, schools are putting their efforts into making sure their suite of electives and concentrations are cutting-edge and market-driven, said MBA Roundtable President Sarah Gardial. Since 2009, 94 percent of schools have made some change to their elective offerings, with 63 percent indicating it was a moderate or greater change. More than half the schools—or 51 percent—said they had added an elective in entrepreneurship. Other popular new offerings were international business, leadership, and corporate responsibility, according to the survey.
"More MBA programs are willing to experiment more than ever before. I think the easier experiments are those that don't involve blowing up the whole curriculum, but saying what if we took a piece of the program and decided to do something around entrepreneurship and ran with that," said Gardial, also dean of University of Iowa's Tippie College of Business. "That is not going to show up in the data as an overhaul of the program, but as a moderate change, which is what we are seeing."
As part and parcel of these changes, schools are also looking to customize their programs for a niche market and play up their area's geographic strengths. For example, many schools said they had added new concentrations in topics like health care, entrepreneurship, and business analytics, as well as more industry-specific ones like aerospace, construction, luxury, wine, and defense, the survey found.
In the last few years, schools have also begun paying close attention to parts of the MBA program that often fly under the radar, like orientation and so-called soft skills like leadership. Nearly one-quarter of respondents, or 24 percent, indicated they are expanding the length of the orientation sessions that full-time MBA students are required to attend.
Meanwhile, more than half of the schools surveyed, or 64 percent, said they were putting more resources into career development, while 57 percent of schools said they were putting an emphasis on personal skills development. Another 47 percent reported an increase in consulting opportunities for students. These have traditionally been co-curricular activities that complemented the existing curriculum, Gardial said. The new data represent a shift in how schools view those activities, and an attempt to integrate these skills more holistically into the MBA curriculum, Gardial said.
The core, or required curriculum, has perhaps gotten the least attention of late. Nearly 75 percent of programs in the U.S. said they had made little or no change to the core curriculum. Of those that did, the most common change has been the addition of action-based learning projects, such as ones where students work with companies. Both part-time and full-time MBA programs reported an increase in these types of activities, the survey found. Other changes to the core included an uptick in offerings like corporate social responsibility, entrepreneurship, ethics, and leadership.
Part-time programs were the most likely to make significant alterations to the program's structure, according to the survey. One-quarter of part-time programs have adopted a new delivery mode, such as a shift from on-campus to online courses, while another 21 percent said they had cut the length of their program by adding additional weekend and summer classes.
"Part-time programs are where the growth is in MBA applications today, and schools are gearing up to handle those numbers and trying to make these programs very attractive to the working professional," Gardial said.
The schools making the most dramatic and deep changes are programs outside the U.S., particularly some of the younger business schools in Europe, Gardial said. All of the international schools surveyed reported they were making some changes to their MBA programs, while one-quarter, or 26 percent, noted they were making significant overhauls, the survey showed. These schools are modifying their core curricula and experimenting with new electives, specializations, and program lengths, Gardial said.
"They are unencumbered by history and tradition, so they are doing more radical experiments than we are, and are far ahead of us in the U.S. when it comes to things like social responsibility," Gardial said. "It's a different model that has some important things we need to be looking at."
Join the discussion on the Bloomberg Businessweek Business School Forum, visit us on Facebook, and follow @BWbschools on Twitter.