Olympic Collectibles: Don't Call It Pin-Sanity
Trading in collectible Olympic pins can get a little crazy
by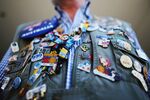 Ask Scott Reed how many Olympic pins he has, and he will tell you about 2,000. The 55-year-old specializes in the pins that national Olympic committees give to their athletes, so-called NOC pins. He keeps these framed on the walls of his house in Atlanta. Talk to Reed a little longer, and he will tell you about the time be bought 1 million pins from a dealer in Tucson and had them shipped to his house in two 24-foot trucks. "It makes me sound obsessive," Reed says of the 2005 bulk purchase. "I do this as a hobby." He paid "a few pennies per pin," he says, and sold about 100,000 for $1 each in the course of a year—via the website he set up, Everypinsadollar.com—until the chore of packing and shipping got to be too much. He keeps the remaining stash stacked in shelves in his basement.
Reed is part of a roving band of collectors who appear every two years in Olympic cities to swap the small, tin-and-enamel pins that commemorate the Games. In London, the pin-trading hub is a tent inside Olympic Park set up by Coca-Cola. Traders like Reed and his 19-year-old son Jeff set out their wares for four-hour shifts at one of a few tables inside. (Getting a spot, says Reed, required an interview with Coke and a background check.) Coke markets a variety of 2012 pins there, featuring the Tower of London, Westminster Abbey, red phone booth, etc., for around £8 each. Collectors are only allowed to trade.
Licensees around the world make Olympic pins to sell. (In the U.S., it's California's Aminco International.) But the more sought-after pins are those with narrow distribution—the NOC pins that Reed specializes in or pins passed out by media outlets or sponsors. A pin with a special back story can become a hot commodity. Collector Richard Jackson says he once sold a pin for $1,800 at the Atlanta Games. (Jackson, a 73-year-old collector who sells pins as a side business at Pindemonium.com, decided not to come to London this year. We spoke by phone.) That pin, featuring the Olympics rings depicted as French fries, was distributed by the drive-in chain Varsity, until the IOC got wind of the unlicensed promotion and had most of them destroyed. The news coverage and limited supply created a run. Jackson had bought a handful before the crackdown and turned a handsome profit. In London, trader Bill Onwasah, a 54-year-old who lives about a mile from Olympic Park, says he is seeing brisk traffic in pins with the Union Jack in the shape of iPhones and iPads that are given to customers at Apple stores. (Apple has skirted copyright by avoiding any Olympic words or symbols.)
During the games, retail pins go for about $10 to $20. As with interest in most Olympic sports, prices tend to crater after the closing ceremony. A few months out, says Reed, those same pins can be had for $2 to $10. Reed sells pins year-round online but says most sales are to a handful of fellow collectors who promise to buy particular types of pins that he might encounter while trading. Those sales, he says, should be enough to fund the trip to London. Reed works at a small community bank in Atlanta and says the pin sales, which amount to tens of thousand of dollars per year, are to fund his hobby. He caught the bug in Atlanta in 1996 and has since been to the Games in Salt Lake City, Athens, Vancouver, and now London. He brought 2,500 pins with him this time—500 to give away around Olympic Park and the rest to trade.
The point, say both Jackson and Reed, is not the transactions but the socializing. "It's how you meet people in the street," says Jackson. "It's the spectator sport of the Olympics." During an hour in the Coke tent, Reed trades with Australian shooting duo/father-daughter pair Hayley and David Chapman, a Reuters reporter, the host of a Japanese morning show called Zip, kids from the U.S. and U.K., and a collector named Lou, who Reed says works for the State Department and once took an armored car through gunfire in Iraq to get pins from that country's Olympic Committee. Lou disappeared into the Olympic Park before I could ask any questions.
Before it's here, it's on the Bloomberg Terminal.
LEARN MORE