Fashioning a Textile Business From Scratch
By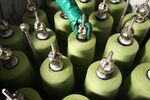 I bought an embroidered dish towel about 20 years ago. The artwork is unique. I have been trying to locate a manufacturer to work with me in launching a textile company, starting with dish towels. Do you have any idea where I should start?
—A.F., Los Angeles
Locating vendors and manufacturers is the easy part, particularly in Los Angeles with its bustling textile and apparel district. The tougher part of starting any business involves research and planning—and that's where you should start, says Paul Ratoff, who has served as a consultant in Los Angeles to apparel industry entrepreneurs for 30 years.
"There are so many ways to go with this kind of product, you need to think further down the road" before you start contracting with manufacturers, he says. "Are you starting a specialty store? Making custom-embroidered items? Selling directly to consumers who pick designs on your website?" Define your target customers and survey your competition: What companies are already selling products similar to yours, what is their pricing structure, and where are they manufacturing their products? Look at established brands such as Red and White Kitchen Co. and Anthropologie as a start.
Your marketing and distribution will be very different if your product line appeals to high-end customers vs. bargain shoppers. The same goes for whether your embroidered items are designed mostly to display on kitchen racks or to be used nightly to dry the dishes.
Look into getting some help at Fashion Business Inc., a nonprofit based at the California Market Center in downtown Los Angeles. The group provides low-cost entrepreneurial development for individuals interested in starting apparel companies. It has counseled more than 5,500 entrepreneurs and manufacturers since its inception in 1999, according to its website; 90 percent of its clients are women and minorities.
The nonprofit should be able to help you write a simple business plan and pencil out some numbers that demonstrate financial viability for your idea. At that point, you'll be ready to source product, most likely starting with blank towels and then contracting with embroiderers who will emblazon your designs on them. "There are mills and distributors who sell blanks in whites and colors, like you would buy T-shirts that you want to put designs on and sell," says Ratoff. "Buy a small lot of blanks and then play with the embroidery and experiment with designs using a small contractor who's willing to work with you. See which ones sell best," he recommends.
If you are starting a product line based on the dish towel you have, look into its history and find out whether the design is copyrighted or considered historical. "Textile print manufacturers will not get involved unless the prints themselves can be copyrighted," says Ilse Metchek, president of the trade group California Fashion Association. "There are way too many copyright lawsuits going on right now in the print field, and everyone is very cautious."
Even if you copyright your designs, be aware that if they become popular, competitors are likely to change them slightly and get around your legal protections, warns Cardie Molina, president of Oilcloth International. The Los Angeles-based wholesale yardage distributor and finished-goods manufacturer has three employees and revenue of more than $1 million annually. You will need to decide whether to use a hand- or machine-embroiderer and whether to contract with a U.S. provider or outsource your labor overseas. "The labor on dishtowels made in the U.S.A. is very hard to compete with India and Pakistan," Molina says. "I tried with our cotton utility line and gave up because the pricing to finish a dishtowel was too much."
Also be aware that a business selling dish towels alone is tough to sustain. Probably sooner than later, you will want to add products to your line, such as placemats, tablecloths, napkins, and aprons, Molina says. If your embroidery catches you, you could consider other linens and accessories and even clothing eventually. Good luck!
Before it's here, it's on the Bloomberg Terminal.
LEARN MORE