What Does a Student Loan Buy You?
By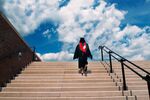 Last year the federal government lent $60 billion to students seeking a college education. What does that money actually buy? Good question.
Federal officials have "an incomplete picture of the effectiveness of federal assistance," James White, director of strategic issues at the Government Accountability Office, told Congress on Wednesday. In other words: The Education Department doesn't know whether the slew of loans, grants, and tax credits available to students have an effect on such things as which schools they attend, how long they stay in school, and whether they end up with a degree.
The GAO looked into the issue at the request of the Senate Finance Committee and found that researchers outside of government don't have the answers either. A University of Virginia researcher's study found that community college students whose schools had access to Stafford loans were somewhat more likely to head on to four-year colleges. But Serge Herzog, a University of Nevada researcher, concluded in a study that low-income students who receive scholarships stay in school, which is not necessarily the case for those with loans. "The research is inconclusive," Herzog told me.
One thing the GAO didn't look at: whether receiving federal aid correlates with employability—a metric you'd think Washington would be particularly interested in.
Before it's here, it's on the Bloomberg Terminal.
LEARN MORE