Passport to an MBA: CEIBS
by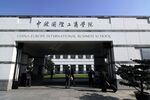 Passport to an MBA is an occasional series featuring interviews with MBA students from all over the world. The interviews were conducted at top business schools by Matt Symonds, chief editor of the business school website MBA50.com and a Getting In guest blogger.
The Chinese economy is predicted to claim the No. 1 spot as early as 2018, and businesses the world over are trying to claim a stake in this increasingly lucrative market, whether in finance, technology, automotive, or the luxury and retail sectors. But the success of any such venture is contingent on understanding China, both professionally and culturally.
Business schools have woken up to this reality and now offer any number of study trips, exchange programs, and even, in some cases, a campus presence. But for an increasing number of young professionals in the U.S. and elsewhere, the idea of actually studying for an MBA at a Chinese business school is becoming an attractive alternative to staying at home. Where better to learn the language, study cases about local business, reflect on the influence of the government, and build a network.
Colin Bezenar has completed his MBA at the China Europe International Business School, or CEIBS, in Shanghai. He studied humanities as an undergraduate in the U.S. and worked for eight years at an international nonprofit. He and his wife had been thinking about an MBA for a number of years and had heard and read a lot about China, which had piqued their interest. Both lacked direct experience of the language and culture, but when they relocated there for work, they immediately started to look at local MBA programs.
What follows are edited excerpts of my interview with Bezenar. Click here for a video of the complete interview.
What has stood out about the Chinese MBA experience?
We feel both smarter and wiser. You go through the program and learn a lot of the hard skills that you have wanted, but the other part is that China is just a different environment than most of us have been in. Working with classmates in this environment, doing projects in China, you have a broader sense of how business is and can be conducted, the opportunities, the circumstances facing you when working with colleagues and companies. I feel like I've grown a lot and learned a lot.
Did you speak Mandarin Chinese before you started the program?
I had absolutely nothing, so we started out with an intensive course and kept moving through courses all along. I'm now at a place where in spoken Chinese I can at least get by.
Can you really understand China and the way that it operates in an 18-month MBA program?
Clearly no—this is such a unique place. But I would say that you are a lot farther [along] than if you stayed at home and continued to read the business press. This is a place where you really have to be to experience it, and you have to talk with both Chinese and the expats who have been here and contend with the issues that are very singular to China. In 18 months, my perspective on China has changed a lot in fundamental ways.
Some of the China content we have had, with both Chinese and foreign professors and guest speakers presenting on China—that type of insight coming from experts who have lived, worked, and taught here for years has been very valuable and gives a depth to my experience here.
How will the MBA help in terms of career steps?
The experience here allows me to tell a story as I move back to the U.S. You look at the U.S.—and enrollment in MBA programs is massive. The fact that I have done that same program in China, in a totally different environment, contended with a new language, in a market that is interesting for more and more companies across more and more industries, I think that element of CEIBS will give me a leg up.
Join the discussion on the Bloomberg Businessweek Business School Forum, visit us on Facebook, and follow @BWbschools on Twitter.
Before it's here, it's on the Bloomberg Terminal.
LEARN MORE