Local Farmers Go Online to Sell Direct to Chefs
By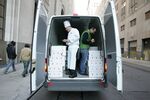 Dean Sparks is a 49-year-old farmer near Binghamton, N.Y., who for decades has relied on wholesale distributors to buy his organic eggs, milk, and cheese and sell it to stores and restaurants around the East Coast. In early April, he started experimenting with online food wholesaler FarmersWeb to sell to chefs and shop owners directly. He's since landed about a dozen new clients via the site and relishes its simplicity. "With FarmersWeb, selling is a 15-minute process without hours of paperwork," says Sparks. "For a small business, time can be more valuable than money. It makes a big difference."
The site gives wholesale buyers in New York, New Jersey, and Connecticut a way to search for food produced within 300 miles of their locations and buy it directly from farmers. In essence, it's a virtual farmers' market with hundreds of local bounties for sale, from produce to meat to seafood, at prices comparable to traditional wholesalers'. Farmers create lists describing what they're selling; chefs peruse them, then place orders. All orders have to be paid in advance by credit card, and FarmersWeb takes a fee of about 5 percent per order. In late July, a grass-fed half cow from Adirondack Grazers' Cooperative, not far from Sparks' farms, was priced at around $1,350; a case of 100 oysters from Blue Island Oyster Co. in Long Island was just under $78.
With the locavore movement firmly entrenched in the U.S. and the number of farmers' markets up nearly double since 2004, co-founder and President Jennifer Goggin felt the time was right when she and her three partners launched FarmersWeb in November. (She and one of her partners had worked for a traditional food distributor and been underwhelmed by its business model.) Today, the 28-year-old says the Manhattan-based venture has more than 20 farms and 100 wholesale buyers who use the site regularly, including New York City prep school Fieldston, the two Blue Hill restaurants, and the Chop't salad chain.
Goggin estimates the number of FarmersWeb's wholesale buyers in the three states it serves now will triple by 2013, and plans to expand into additional East Coast states this winter. "It seems like this should have been done already, because it makes so much sense," says Goggin. "You can find online databases for farms very easily, but before buyers would have to call up every farm and manage the transactions on their own—that is the gap we are trying to fill."
Not all food distribution headaches can be solved by harnessing the Internet, of course. FarmersWeb doesn't handle deliveries, leaving it up to the buyers and sellers to make arrangements for getting the food from point A to point B. And it isn't responsible for disputes over delivery or quality. "There's tremendous growing demand to buy local foods," says professor Todd Schmit, an expert in agricultural marketing at the Dyson School of Applied Economics and Management at Cornell University, "but the hiccup tends to be in distribution."
That's why, without providing its own service, FarmersWeb tries to make delivery easy. Sellers list delivery options on their profiles, which often include arranging for pickup at their location or a farmers' market. If those ways won't work, FarmersWeb can connect buyers and sellers with delivery services in their area. Buyers can request refunds if they're dissatisfied with an order—and if the seller approves, FarmersWeb transfers the money back to their credit card. "Our farms understand that they're ideally cultivating long-term relationships with buyers," Goggin says of her clients, "so in most cases, if the complaint is legitimate, the farm doesn't hesitate to approve it."
Deliveries haven't been a problem for Keith Taplin, executive chef at The Good Table, a Purchase (N.Y.)-based catering service that operates cafes on corporate campuses, including the U.S. Tennis Association. Taplin has been using the site since it launched to cut the time he spends sourcing local foods. "What shows up from FarmersWeb is always good quality," he says.