Dating Sites Aim for a Novel Idea: Actual Dates
Meghan Walsh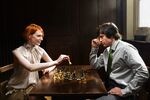 New Yorkers—wait for it—like to dine at trendy restaurants on a first date. In Detroit, they prefer to do the serving themselves via volunteer work. Singles living in sunny Los Angeles are apt to be sporty and hit the hiking trails for a first outing together, according to data collected by the website HowAboutWe.com, a startup that offers a platform to suggest first dates.
How about we … go to a swanky wine bar and complain to the bartender that the vino isn't half as good as boxed Chablis. The date suggestions are nearly endless, although the company's filters reject propositions deemed inappropriate or lewd. How about we … go to couples therapy and pretend to be married. How about we … buy a dozen roses and hand them out to strangers who appear to need a boost. Or, from one man, how about we … go get manicures? (He had plenty of takers for that idea.)
The site has arranged more than 1 million dates, connecting singles around the world and serving as a dating concierge for couples. It's free to create a profile, but for access to messaging and other privileges, users must purchase a subscription—about $70 for six months. When users join they provide basic information about themselves, including their sexual orientation.
HowAboutWe and sites like it are trying to move people from the old online dating paradigm of e-mails and photos (which can be woefully outdated) to picking potential partners based on which propositions they find most appealing and in sync with their own interests. Meaning, they actually meet in person. "We focus everything on getting you offline to see if there is real chemistry," says co-founder Brian Schechter. That's one reason Schechter says he hardly considers HowAboutWe to be an online dating site at all.
Two years ago, when the New York company launched, fish tacos were in vogue. Last summer it was artisanal ice cream treats. And so far in 2012, popular date outings have evolved, from bocce ball to wine education to moving dates—as in literally helping someone you just met pack up and move stuff. (Fun!) Different cities also tend to favor a diverse amount of activities. In Boston, singles are three times more likely to plan a trip to the library, while in D.C. they rendezvous for lunch dates.
"People are creatures of imitation" and tend to follow the pack when it comes to dating, Schechter says.
Getting would-be daters offline is the industry's No. 1 trend, according to OkCupid co-founder and Chief Executive Officer Sam Yagan. "We are thinking more about ourselves as simply a dating site rather than an online dating site," Yagan says. "We want the focus to be getting people to meet in person, actually going on dates." The concept is fairly new, so companies are still figuring out how to adjust their algorithms to achieve that goal.
Before the advent of mobile apps, it was possible for dating websites to track only whether members were communicating electronically. Therefore, the sites were optimized to offer three services: access, communication, and matching. Now that mobile apps can verify whether people are meeting face-to-face, that model has become the benchmark against which to measure success.
The creepy factor doesn't end there: Via smartphones, people on dating sites can share their whereabouts and movements, allowing the sites to suggest potential mates who frequent the same businesses. OkCupid will soon be connecting you to folks in the neighborhood who use the same dry cleaners or sweat at the same gym—which might make you think twice about wearing pajamas while going for a morning coffee. "It's the missed-connections concept," Yagan says. "You could have walked right by four people who are really good for you throughout your day and never known it."
Online dating sites have become a $1.3 billion industry during the past decade, according to researcher Marketdata Enterprises in Tampa. But revenue is expected to slow this year, growing just 7.5 percent, as the market has become saturated with more than 1,500 suitor sites. Many companies, however, have continued to expand their customer base through mobile and social apps. New York-based Snap Interactive, which operates AreYouInterested.com, has more than 60 million user installations between its Facebook and mobile apps, according to its site. OkCupid has 7 million active members and is free. Most of the other prominent sites don't advertise their numbers.
Still, HowAboutWe may have tapped into a human trait some other dating sites have not—we like stimulating experiences. When people do something physiologically stirring, such as hiking or riding a roller coaster together, it amplifies an initial attraction, says Arthur Aron, a psychology professor at Stony Brook University in Long Island. When we are aroused, we look for something in our environment to attribute those feelings to. And since we underestimate the effects of the activity that got the adrenaline going, we attribute it to the person we are with.
Anyone for fake couples therapy or a manicure?
Before it's here, it's on the Bloomberg Terminal.
LEARN MORE