Will Draghi Put His Money Where His Mouth Is?
The ECB boss moves markets
by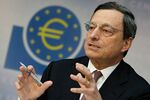 In the latest episode of Europe's repetitive debt drama, after seeming to get better for a few weeks, things got really ugly again, with Spanish and Italian bond yields spiking to record highs. Markets tumbled. Then, just when things looked like they couldn't get much worse, a European leader stepped in with some aggressive comments about how he'll do everything necessary to make things better. Markets rejoiced. Sound familiar?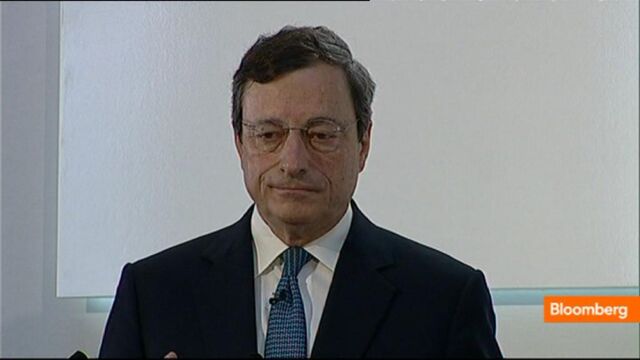 During a speech at the Global Investment Conference in London today, European Central Bank President Mario Draghi said the ECB is "ready to do whatever it takes to preserve the euro." He added: "Believe me, it will be enough." World markets breathed a collective sigh of relief and embarked on a thundering rally. Japan's Nikkei stock average rose 0.9 percent. The Dow ticked up 1.37 percent before noon. Stocks in France, Germany, Britain, and Brazil were all positive. The big winner? Spain's Ibex, which increased a whopping 6 percent.
But then, what did we think Draghi was going to say? That the euro is doomed, and there's nothing to do about it? It's all part of the script Europe's leaders have been following for three years now: "Don't worry, we got this." And yet here we are, stuck in the most recent cycle of unraveling. The latest trend was pretty dire, as the yield on Spain's 10-year bonds had risen to 7.69 percent by Tuesday. Italy's had reached 6.5 percent. The contagion appeared even to be creeping into Germany, whose safe-haven status was called into question earlier this week when Moody's announced it was placing the nation's AAA rating under review. If the Germans aren't safe, who is?
In the aftermath of Draghi's statements, Spanish yields are back below 7 percent, and Italy's were down near 6 percent. By no means good, but certainly better. The question is how long until they start rising again. "I think the market reaction is foolish, very shortsighted," says Mark Grant, managing director of Southwest Securities.
Draghi's words hint at the notion that the ECB will act to lower yields by purchasing Spanish and Italian sovereign debt, just as it reluctantly did last summer. The ultimate effectiveness of that policy remains debatable. "Yields eventually rose higher than they were before they started buying last summer," says Grant, who worries about the ECB's ballooning balance sheet. "They're already sitting on $4 trillion," he says. "That's almost twice the size of the Fed's $2.2 trillion balance sheet. They're putting themselves in a worse position and multiplying the risk factor."
And then, of course, there's the problem of Europe's stalling economy, which is making the whole debt crisis even worse. "This does nothing to prevent a recession in Europe," says Jeffrey Bergstrand, a former Federal Reserve economist and currently a finance professor at the University of Notre Dame. "Further ECB action will stabilize things, but what the markets really want is fiscal stimulus to boost economic growth."
Before it's here, it's on the Bloomberg Terminal.
LEARN MORE