Why Did It Take 20 Years to Catch Peregrine's CEO?
The Peregrine chairman allegedly left a trail of clues in his embezzlements from clients, but the agency charged with investigating such crimes slacked off
By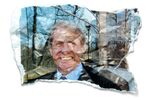 On Saturday, May 26, Doug McClelland traveled to Peregrine Financial Group's $18 million headquarters in Cedar Falls, Iowa, for the trading firm's annual meeting. McClelland, who operates a small brokerage in Lincoln, Neb., had roughly $500,000 invested in Peregrine accounts, including funds from farmers who'd lost money when MF Global collapsed last October. He hoped Peregrine, with its reputation for stability and good management, would give his investments a measure of security.
It was the first time McClelland had been to Peregrine, and he marveled at its 50,000-square-foot interior trimmed in bamboo, 24-hour gourmet restaurant for employees, in-house Montessori school, and floor-to-ceiling windows. "It was gorgeous," he says, "stinking gorgeous."
McClelland was less impressed with Peregrine's chairman and chief executive officer, Russell Wasendorf Sr., who gave a rambling speech to his investors. "Other than saying 'Have a good time' and 'Enjoy the free food,' he was hemming and hawing the whole time, like he didn't know what to say," McClelland recalls. "I couldn't figure out if he'd had too much wine or what."

Wasendorf's nerves may have had more to do with what was happening offstage. Federal investigators would soon learn of the vast financial fraud that prosecutors now allege he perpetrated—and which the government agencies whose job it was to oversee his firm failed to spot for nearly two decades.
At the time, Wasendorf was resisting requests by the National Futures Association for electronic records of Peregrine's bank accounts. As part of a new effort to avoid another MF Global-style collapse, they'd begun keeping closer tabs on where trading firms put customers' money. This was a big problem for Wasendorf. For decades, Chicago-based NFA, a private trade group that's supposed to keep watch over its own members, relied on paper copies of Peregrine's bank statements—documents Wasendorf allegedly doctored for years to hide the millions of dollars he stole from clients.
By the first week of July, Wasendorf could no longer hold off his overseers and granted the NFA access to the electronic banking records he must have known would expose his alleged crimes. On July 9 he tried to asphyxiate himself by parking his Chevy Cavalier behind his office and running a hose from the tailpipe into the car. He survived after a passerby discovered him and called 911.
Along with a suicide note, police say they found a statement signed by Wasendorf confessing to nearly 20 years of fraud. "I have been able to embezzle millions of dollars from customer accounts at Peregrine Financial Group," he wrote, according to excerpts from the statement released by the Federal Bureau of Investigation. Starting around 1993, he wrote, his business was faltering. Forced either to shut down or cheat, he falsified bank statements. "Using a combination of Photoshop, Excel, scanners, and both laser and ink jet printers I was able to make very convincing forgeries of near[ly] every document that came from the Bank," he wrote. When authorities finally logged into Peregrine's customer account, they saw a balance of $6.3 million. Wasendorf's forged statements reported $221.7 million. In his letter, Wasendorf admitted to stealing at least $100 million. Prosecutors say it may be twice that.
The swindle cost McClelland a quarter of his clients, who lost hundreds of thousands of dollars. Customers he's had for 30 years won't take his calls. "It's the nail in the coffin for this whole notion of self-regulation," he says.
Wasendorf, who's being held pending a July 27 bail hearing in federal court in Cedar Rapids, has been charged with making false statements to the U.S. government. His lawyer with the Cedar Rapids public defender's office declined to comment. No one else has been arrested, though prosecutors say the investigation is ongoing.

The scandal is another reminder of how incompetent government overseers have been at detecting financial fraud—and how ill equipped (or disinterested) the industry has been at policing itself. Although the U.S. Commodity Futures Trading Commission has ultimate authority over futures firms such as Peregrine, the agency leaves the day-to-day oversight to the NFA, which is in charge of auditing the finances of its more than 4,000 dues-paying member organizations.
In his letter, Wasendorf said he'd tricked the NFA into believing a post office box he rented in Cedar Falls was the address of the U.S. Bancorp branch that handled Peregrine's account. He would send doctored bank statements to the NFA with the post office box listed as the bank's return address. Wasendorf said he maintained strict control over the real statements. "No one else ever saw an actual U.S. Bank statement," he wrote. The NFA audited Peregrine in February 2010 and again in May 2011, according to CFTC Chairman Gary Gensler, who was grilled by a U.S. Senate committee on July 17. A third audit was conducted in December 2011 by a CPA Peregrine hired. None picked up on anything unusual.
The NFA is awaiting the results of a review of its auditing practices, says NFA Board Chairman Christopher Hehmeyer, who admits his industry has "a long road" to regain its customers' trust. Gensler declined to be interviewed, but fellow CFTC Commissioner Bart Chilton says his agency comes out looking terrible. "We justifiably deserve criticism," he says. "It's crazy that he duped us with a P.O. box and Photoshop."
The failure to catch such a blatant fraud has congressional Republicans renewing calls for the CFTC's budget to be slashed—just as it's taking on more responsibilities. On top of its oversight of the $37 trillion futures market, the CFTC is now required under the Dodd-Frank financial overhaul law to watch over the massive U.S. swaps market. The agency complains it's already stretched—which is why it pawns off important responsibilities to the NFA—and can't handle the extra work with its current budget of $205 million and staff of 710.
"This is a tiresome excuse that too many federal agencies make," says Senator Chuck Grassley (R-Iowa), whose soybean and corn farm is about five miles from Peregrine's headquarters. "Too often, more money is the answer to everything."
Chilton gets why Grassley is mad. But he says strangling his agency is the opposite of a solution. "The people on Capitol Hill need to ask themselves what level of oversight they want," he says. "There's no sense in adding all these extra rules and regulations on the books if we don't have the resources to enforce them."
— With assistance by Matthew Leising, and Andrew M Harris
BOTTOM LINE -
The bottom line: The federal agency that failed to spot MF Global and Wasendorf is now in charge of overseeing the huge, risky U.S. swaps market.
Before it's here, it's on the Bloomberg Terminal.
LEARN MORE