The Chinese Tighten Noose Around Bo Xilai and His Wife
The wife of the fallen Chinese communist boss is charged with murder
By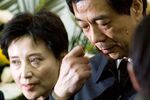 A poisoned Englishman and a French witness. A senior Chinese police officer who attempts to defect to a U.S. consulate and hands over to the Americans who knows what kinds of dark secrets about China's ruling elite. The fall of a high-flying populist leader and princeling, once bound for the top echelons of Chinese power. And all happening in the months before a once-in-a-decade transition of China's top leaders, slated to occur sometime later this fall.
Now the latest twist in the drama that was never supposed to happen: On July 26, Gu Kailai, the wife of Bo Xilai, the disgraced former party secretary of southwestern China's megalopolis Chongqing, was charged with murder in the November 2011 poisoning death of Englishman Neil Heywood. Gu, once a well-known lawyer, and Zhang Xiaojun, an orderly for the family, were both charged with "intentional homicide," according to the official Xinhua News Agency announcement on July 26.
Gu and Bo Xilai's son Bo Guagua, who graduated from Harvard's Kennedy School in May and earlier was a student at Britain's elite Harrow School and at Oxford University, had a financial conflict with Heywood. That caused Gu to view the Brit as a threat to her son's safety, Xinhua said. The news agency also announced that a trial will be held later (the date is still undecided). The charges come just one week after French architect and former close Gu associate Patrick Devillers flew to China, apparently to provide evidence in the case. Prosecutors interrogated Gu and the orderly Zhang, and "heard the opinions of the defense team," Xinhua reported. "The facts of the two defendants' crime are clear, and the evidence is irrefutable and substantial."
The Gu prosecution may mean an earlier resolution of the ongoing case against Bo, who fell from power following the attempted February defection of his former police chief. Bo's ouster as regional party secretary in March, along with his April suspension from the elite 25-member Politburo, set off one of the biggest challenges to China's ruling elite since the aftermath of the Tiananmen Square tragedy in 1989. Wild rumors swept China for weeks this spring, including ones that said the Bo ouster had led to deep divisions among top leaders, and that a coup had been attempted by his supporters.
Bo himself is under investigation and "suspected of being involved in serious discipline violations," according to a Xinhua report on April 10. He has not been seen in public since the National People's Congress in March. And it's still unclear what he will ultimately be charged with—and what fate will befall him. China's ruling Communist Party, busy with a political transition that will reshuffle most of the country's top leaders this fall, certainly are eager to limit any further fallout from the crisis.
"China is a socialist country ruled by law, and the sanctity and authority of law shall not be trampled on," opined the flagship party newspaper People's Daily in a commentary on the Bo and Gu case on April 11. "Whoever has broken the law will be handled in accordance with law and will not be tolerated, no matter who is involved and no matter what position he is in."
Before it's here, it's on the Bloomberg Terminal.
LEARN MORE