MBA Alumni in the News: July 26
Louis Lavelle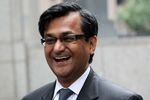 Each week, Bloomberg Businessweek brings you an update on how MBA alumni from top business schools are making news—the good, the bad, and the ugly. This week, graduates from Cornell, Wharton, and Columbia Business School were among those making headlines:
Stand by Your Man: After reports that they were considering a leadership change, Procter & Gamble directors said they unanimously supported Chief Executive Bob McDonald, an MBA graduate of the University of Utah's Eccles School of Business. McDonald, 59, came under fire from analysts earlier this year when P&G lost market share to competitors. P&G has cut profit forecasts three times this year.
Comings and Goings: JPMorgan Chase hired Douglas Neimann as managing director for strategy and analytics in a group overseeing nearly $40 billion in assets for insurance clients. Formerly at American International Group, Neimann has an MBA from the University of Wisconsin at Madison. Brett Richards, the chief executive of Avocet Mining and an MBA graduate of Cornell University's Johnson Graduate School of Management, resigned "to pursue other opportunities." Avocet has plunged 55 percent in London trading since the end of June. Vale, the world's second-biggest mining company, named Luciano Siani, an MBA graduate from New York University's Stern School of Business, A chief financial officer. Shares fell in the 10 weeks following the announcement, the company's fifth replacement of a top executive in eight months.
When the Going Gets Tough: Anil Kumar, a former McKinsey director, was facing 25 years in prison after pleading guilty to an insider-trading scheme with Galleon Group co-founder Raj Rajaratnam, but as a result of his "extraordinary" cooperation with prosecutors, he received a two-year probationary sentence. Kumar's testimony against Rajaratnam, a fellow 1983 Wharton MBA graduate, and Rajat Gupta, a former Goldman Sachs director and Harvard MBA graduate, was instrumental in their convictions.
Nip and Tuck: Morgan Stanley chief James Gorman, an MBA graduate from Columbia Business School, vowed to shrink the bank's fixed-income division after it posted the largest drop in revenue among the biggest Wall Street banks. The risk-weighted assets in the unit have already been cut 15 percent in the past nine months, and Gorman said the reduction will reach 25 percent by the end of 2013.
Don't Hold Your Breath: AMR Chief Executive Tom Horton said American Airlines can survive without a merger partner. U.S. Airways, AMR's most vocal suitor, has argued that a combination is the only way for American to resolve route-network weaknesses and that it won't wait indefinitely for a merger agreement. Horton has an MBA from Southern Methodist University's Cox School of Business.
Annals of Jurisprudence: Phillip Murphy, a former Bank of America executive and MBA graduate of Fordham University's Graduate School of Business, was indicted on municipal bond bid-rigging charges. Murphy was charged with conspiracy to defraud the U.S., wire fraud, and conspiracy to make false entries in bank records.
The Ax Falls: Cisco Systems CEO John Chambers, an MBA graduate of Indiana University's Kelley School of Business, eliminated 1,300 jobs, or 2 percent of the workforce, to reduce costs. Cisco shares have fallen 11 percent this year as Chambers works to reverse a slowdown in sales growth and market-share losses. In May, the European debt crisis, weak government spending, and a drop in orders from large corporate customers were blamed for a fourth-quarter profit forecast that was below analysts' estimates.
Join the discussion on the Bloomberg Businessweek Business School Forum, visit us on Facebook, and follow @BWbschools on Twitter.
Before it's here, it's on the Bloomberg Terminal.
LEARN MORE