For NFL Teams, It Pays to Move
A Rams' return to L.A. would hinge on stadiums and fiscal concessions
By and
For the past 17 years, Los Angeles has been the National Football League's lost city of gold. The second-largest media market in the U.S. hasn't had an NFL team since both the Rams and Raiders left town after the 1994 season in search of new stadiums. Now, the league appears ready for a return to L.A., and one of the most likely candidates to relocate there is none other than those same Rams, currently playing in St. Louis. The team's potential round trip illustrates team owners' continual success at playing cities against one another to gain access to public funds.
The Rams are in the middle of a dispute with their landlord, the St. Louis Convention & Visitor Commission, over renovations to the Edward Jones Dome. Their lease includes promises to keep the 17-year-old dome in the top 25 percent of NFL stadiums based on 15 measures, including skybox suites, scoreboards, and concessions. When the CVC negotiated the lease, which figures to cost the state and city about $720 million in debt payments over its 30-year life, they were trying to lure the Rams from the much larger L.A. market. "We weren't negotiating from a position of strength," then-Mayor Freeman Bosley Jr. told the St. Louis Post-Dispatch in January.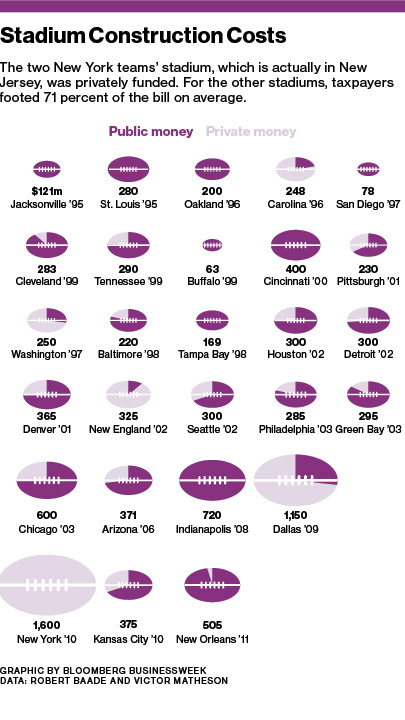 Since the NFL's exodus from Los Angeles, 28 of the league's 32 franchises have built new stadiums or renovated old ones at a cost of more than $10 billion, with taxpayers covering $6 billion of the total, according to a tally by economists Robert Baade and Victor Matheson. And that doesn't include Minnesota, where the Vikings were a candidate to move to L.A. until May, when the state and the city of Minneapolis agreed to pitch in $498 million toward a new $975 million stadium. "There is real asymmetry in negotiating power between host cities and teams," says Baade of Lake Forest College. "And to a significant degree that is attributable to the fact that leagues maintain an excess demand for teams."
The endless upward ratcheting of stadium expenses and amenities such as the Dallas Cowboys' $40 million, 25,000-square-foot video board has left St. Louis and Missouri scrambling to keep up, even as they deal with their own budget shortfalls. In February the St. Louis commission proposed a $124 million renovation of Edward Jones, including upgraded box suites and a 96-foot-long video board. In May, the Rams came back with a $700 million proposal calling for added bowl seating and an adjustable roof. "It is our goal to keep the Rams in St. Louis for many years to come and to do so with improvements to the facility that make sense to the Rams ownership and our community," CVC President Kathleen Ratcliffe wrote in an e-mail.
While Rams owner Stan Kroenke waits for an arbitrator's ruling on the wildly different proposals, two billionaires with competing plans say they're ready to build state-of-the-art venues in L.A. as soon as the NFL delivers a team to take up residence. Philip Anschutz, whose Anschutz Entertainment Group operates the Staples Center and owns stakes in three L.A. teams—the NBA's Lakers, the NHL's Kings, and pro soccer's Galaxy—is backing Farmers Field, a 68,000-seat stadium to sit alongside Staples downtown. Edward Roski Jr., chairman of Majestic Realty, wants to build a 75,000-seat stadium in City of Industry, 20 miles east. Both pledge to bankroll the buildings with little or no public money. In a memo sent to league owners on June 29 and first reported in the Los Angeles Times, NFL Commissioner Roger Goodell referred to the two plans as "advanced to the point where the prospects for a new facility are better than they have been in many years." Any L.A. stadium should be prepared to house two teams, he wrote. Since the NFL doesn't have plans to expand beyond its current 32 clubs, that means two franchises will probably be on the move—putting more pressure on host cities to keep owners happy.
Baade says that if the arbitrator ups the ante, it would make sense for St. Louis to rid itself of the onerous lease and let the Rams go. "On purely measurable economic grounds, St. Louis would be nuts to keep the Rams," he says. But then, it wasn't exactly rational for the city to pay what it did to get the team, either.
Before it's here, it's on the Bloomberg Terminal.
LEARN MORE