Facebook Belly-Flops Into its First Earnings Report
By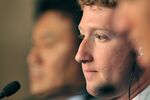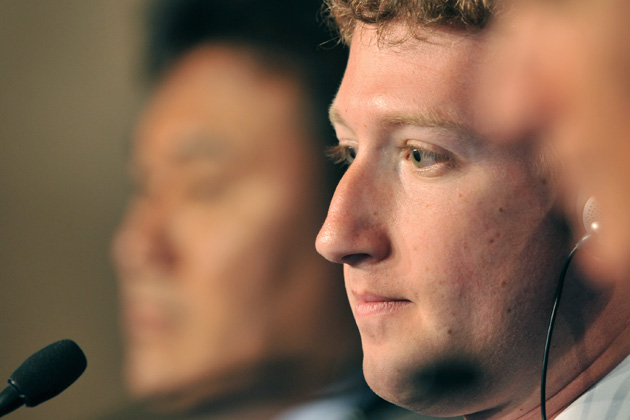 To Wall Street, at least, Facebook just belly-flopped its first earnings report as a public company. The social network reported second-quarter revenues of $1.18 billion, up 32 percent from the same quarter last year, narrowly beating analyst estimates. But marketing and sales expenses quadrupled to $392 million, share-based compensation swelled, and margins fell from 53 percent a year earlier to 43 percent. Wall Street hated a lot of that, pummeling an already bruised stock. At one point during after-hours trading, the stock hit $23.75, an all-time low.
On the post-earnings-report conference call, founder and Chief Executive Officer Mark Zuckerberg addressed analysts to give "a clear sense of the investments we are making." He said the company is focusing on three growth areas—mobile, a platform (software on which other companies can build), and social ads. Chief Operating Officer Sheryl Sandberg also spoke, saying that "We are still in the early days of building our monetization engine."
Zuckerberg directly addressed the opportunities presented by smartphones. He expects that five billion people will own smartphones over the next four or five years, and he said that "having a device wherever you are creates more opportunities for sharing and connecting." A big rap against Facebook is that it doesn't know how to make money from this trend, but Zuckerberg claimed they're figuring it out. A new type of advertising, called Sponsored Stories (lifted, in part, from the similar concept of Sponsored Tweets over at Twitter) allows advertisers to pay to highlight certain posts from others, so their friends and other members on the site can see them. Zuckerberg said this new ad product is already generating a million dollars a day in revenue, with half coming from mobile. "It's an encouraging start," he said. "I think we're much closer to the beginning than the end in terms of what we can do."
For steel-stomached investors who want to defy the strong draft pushing down Facebook's stock price, there are still plenty of reasons for optimism. The company is approaching 1 billion users worldwide, with more than half checking the site every day. That is simply unprecedented. Facebook also makes more than half its money in the U.S. and Canada but is growing more quickly in other regions such as Asia and Europe. As I pointed out in a post yesterday, the downside is that overseas users tend to be less lucrative for Facebook. There's a big opportunity to close that gap as advertisers abroad grow more sophisticated about social media and Facebook beefs up its overseas staff.
Interestingly, the call provided more evidence that Facebook is friending Wal-Mart, the retail giant. Last weekend, the Facebook management team spent two days in Bentonville, Ark., exploring ways to "deepen" the relationship between the two companies. During the earnings call, Sandberg again brought up Wal-Mart as an advertiser that might find sponsored stories useful.
Facebook's failure to provide forward looking guidance clearly added to the overall sense of investor disappointment and pushed its stock price lower. "We are disappointed in how the stock is trading," Chief Financial Officer David Ebersman said toward the end of the conference call. "We are the same company now as we were before, and we have the same opportunity in front of us to build something important and valuable."