business
Europe's Brutal Game of Dominoes
Greece is gone. Spain teeters. Look out, Italy?
By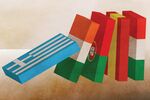 Remember Europe's good old days? You know, June? The Greeks had finally elected a government, and the country's new ruling coalition was willing to stick with an austerity program. In Brussels, a June 29 summit ended with German chancellor Angela Merkel yielding a little on the need for harsh medicine for any country that applied for rescue funds. The leaders of Spain and Italy claimed victory, and markets momentarily stopped pummeling their bonds.
Now, deeper into summer, Europe is lurching back into full-blown crisis. This time it's not Greece (though talk of a Greek exit from the euro has been revived). The flash point is Spain, the euro area's fourth-largest economy, which may need a full-fledged bailout. That in turn would make it much more expensive for Italy to raise money, as investors worry that it will be next to need a rescue Europe may not even be able to afford. What will happen if Europe can't rescue Italy? No one knows.
In the early days of the euro crisis, policymakers and economists could not imagine the contagion spreading beyond the euro's periphery, where the smallest economies—as well as Spain—were to be found. The need for an Italian rescue was seen as remote. Now Spain and Italy are at the heart of the story, which could yet end with a breakup of the euro zone. A botched rescue of Greece will not in itself deal a body blow to the euro. A botched rescue of Spain and Italy could.
Spain is struggling with multiple problems. The first is the bailout of the country's banks, which still haven't recovered from years of lending to real estate developers who went under. The euro area's bailout fund has agreed to extend as much as €100 billion ($120 billion) in loans to shore up the banks; and the government of Prime Minister Mariano Rajoy has agreed to take on the debt, which will add to the country's sovereign obligations.
Spain's 17 regions, whose overspending in the boom years led to unsustainable deficits, are the next crisis to defuse. Catalonia, the most indebted region, with an economy the size of Portugal's, is considering asking for help from the central government, and Valencia, the second-most indebted, has already said it will do so. The government created an €18 billion bailout fund on July 13, with €6 billion coming from a loan from the state-owned lottery and the rest from the national treasury. The regions have combined debt of €145 billion, double the level in 2008.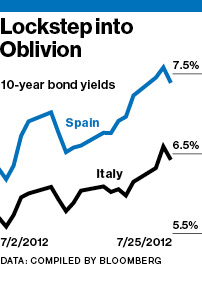 Spain is struggling to maintain access to the market, with 10-year yields at more than 7 percent, pushing it closer to a full international rescue. "It's the straw that broke the camel's back," says Lyn Graham-Taylor, a fixed-income strategist at Rabobank, referring to the bailout offer to the regions. "It's almost a waiting game now until they seek a sovereign bailout." A July 24 meeting between the finance ministers of Spain and Germany resulted in a firm expression of support for Spain's reform efforts. Yields on Spanish sovereign debt, though, remained high.
The Spanish government can afford to pay 7 percent on its 10-year bonds for a while, but not for long: Central government debt is €593 billion—and that does not include the regions' debts. Spain saw the biggest outflow of foreign investment in April since the start of the euro, Bank of Spain data show, as foreign investors shunned Spanish stocks and bonds. Nonresidents cut their holdings of Spanish bonds to 37.5 percent of the total in circulation in May, compared with 51.5 percent at the end of last year. "I estimate a bailout [for Spain] could come in September or October this year," says Alessandro Giansanti, a senior rates strategist at ING Bank.
While analysts are following the Spain situation closely, they are also keeping an eye on Italy. "The dramatic price action in Spain's bond market in the past few trading sessions is worrying enough," wrote Nicholas Spiro of Spiro Sovereign Strategy, an economics consulting firm, on July 24. "What's even more alarming in our view is the rapid sell-off in Italy's debt market." A surge in yields on Italian two-year notes since the crisis in Spain worsened on July 20 could be a sign that Italy will be the next country after Spain to ask for a bailout from the International Monetary Fund, the European Central Bank, and the European Commission. Italy's economy is contracting, making it harder to meet its tough goals for deficit and debt reduction. Like Spain, it cannot afford to offer debt yielding 7 percent or more for any considerable length of time.
"A sovereign bailout of Spain would require at least €300 billion," says Nicola Marinelli, a money manager at Glendevon King Asset Management in London. "This means there wouldn't be enough to save Italy." If Marinelli's estimate of the cost of a Spanish bailout is correct, then only about €200 billion in rescue funds would be left in the hands of the European Stability Mechanism, the group that starts operating later this year to provide emergency funding to euro-area member states. For a bailout of Italy, the euro area's third largest economy, that sum is not enough.
— With assistance by Chiara Vasarri
Before it's here, it's on the Bloomberg Terminal.
LEARN MORE