business
China's Biggest Brands Try to Raise Their Profile
By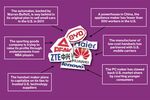 It was going to be the start of a Chinese invasion. Haier Group, a company from the northeastern Chinese city of Qingdao and the world's largest maker of air conditioners, refrigerators, and other appliances, opened a factory in Camden, S.C., in 2000. The plant was Haier's first in the U.S. and a big step in its strategy to expand beyond China and challenge Maytag and Whirlpool in American homes.
A decade later, Haier is still trying to win over American consumers. It's had some success in niches such as minifridges for hotel rooms and college dorms, but it's yet to make inroads in mainstream products such as full-size refrigerators and washing machines. Haier's U.S. head count tells the story: about 250 workers at the South Carolina plant plus 220 working on U.S. sales and marketing. It has 80,000 workers worldwide. "We had a few ups and downs," says Shariff Kan, president of Haier America.
Companies such as Haier, which had $23.6 billion in sales last year, may be little known in the U.S., but their brands are household names back in China. Some have become global leaders, thanks largely to their strong position in the world's second-largest economy. TCL Multimedia Technology, China's leading maker of televisions, for instance, is now No. 5 globally for LCD TVs. But unless you've shopped online for a low-cost set lately, you've probably missed the brand.
Now Haier and other big Chinese brands are trying again to make a splash in the U.S. Haier plans to open an R&D center in the U.S. to focus on larger-size appliances designed with American families in mind. "That will really open the door," Kan says. Haier is following the lead of Huizhou-based TCL, which opened an R&D center in Silicon Valley last year. The company, which started selling TVs in the U.S. under its TCL brand in 2011 (it previously made sets sold under the RCA brand), also has a research lab with the Massachusetts Institute of Technology.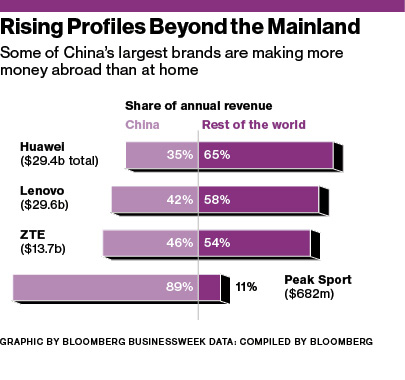 Chinese phonemakers such as ZTE and Huawei Technologies are making deals with American carriers for their low-cost smartphones, and BYD, a maker of autos and solar panels partly backed by Warren Buffett, set up shop in Los Angeles last year. Even Chinese sporting goods companies Peak Sport and Li-Ning are intent on establishing an American beachhead.
Given the strong home market for made-in-China brands, why bother? One reason: the sheer market size and affluence that makes the U.S. a voracious buyer of the higher-value goods Chinese multinationals want to create. "ZTE wants to be one of the top telecom vendors in the world, [and] we cannot have a top position without success in the U.S. market," says Lixin Cheng, chief executive officer of ZTE's U.S. operation.
Li-Ning, named for the Olympic gymnastics gold medalist, had disappointing sales when it opened a retail store on the West Coast, but it's not giving up. It's shifting its focus to online sales in the U.S. through Digital Li-Ning, a joint venture with Chicago-based marketing firm Acquity Group. Says Ray Grady, the venture's general manager: "To be a global brand, you have to show up and be relevant in the U.S."
The most successful Chinese company to do that so far is Lenovo. It's the world's No. 2 PC vendor, behind only Hewlett-Packard, albeit largely due to its strength in China. In 2005, Lenovo bought IBM's PC business, but by 2009, its U.S. market had dropped by almost a third, to 3.4 percent, as it lost business to Apple and low-cost Taiwanese rivals such as Acer and Asustek. To woo U.S. consumers, Lenovo has begun a makeover. Because of their IBM heritage, ThinkPads have been popular among corporate IT managers who bought the dull-but-reliable laptops in bulk for employees. The goal now is to create a cooler, younger image aimed at consumers so Lenovo can be "a brand that is desired, not just dictated," says Jeff Meredith, vice president for marketing.
The campaign was started last year with print ads and online videos featuring urban hipsters and thrill seekers doing things like booting up a ThinkPad while skydiving. Lenovo on July 25 unveiled a three-year sponsorship deal with the National Football League that "gives us a tremendous new forum to introduce consumers to our products and brand," said David Schmoock, president of Lenovo North America. The consumer focus is paying off: Lenovo's unit sales in the U.S. grew 6.1 percent in the second quarter compared with a 10.6 percent decline for the U.S. PC market, reports market researcher IDC. That gave Lenovo an 8 percent U.S. market share, its largest ever.
Huawei has partnered with carriers MetroPCS Communications and Leap Wireless International to sell cheap smartphones and is making inroads with first-tier players such as T-Mobile, which is working with the Chinese company on two handsets. ZTE had 4.8 percent market share in the first quarter of the year, according to CEO Cheng, putting it No. 6 in U.S. handsets. In 2011, ZTE introduced 11 models for the U.S.; this year it will launch 18 more.
As recently as 2010, buyers would have had a hard time knowing ZTE made their phones since its handsets carried only its wireless customers' names. Now, Cheng says 90 percent of ZTE gear sold in the U.S. has the ZTE name, so American consumers "can start to learn our brand."
Moving into more fashion-driven industries could be tougher. Peak Sport, whose athletic footwear is sold in more than 6,000 stores in China, this winter opened a 3,000-square-foot store in Culver City, Calif., and another in Hollywood showcasing its shoes. They are the first steps in a plan to roll out flagship stores nationwide while also trying to win shelf space in U.S. chains such as Foot Locker. In March the Chinese company became a sponsor of the Drew League, for young basketball players in Southern California, to raise its profile.
"Consumers want new brands," says Su Jia, head of Peak's U.S. unit. "They say everyday it's just Nike and Adidas. It's boring. Consumers don't care where you come from." Still, Peak doesn't draw attention to its Chinese roots. Says Su: "If you just focus on the China brand, people will think it's cheaper and the quality is not very good."
Having brands mostly at the low end of the market is a long-term problem for Chinese companies, says Anil Gupta, a professor at the University of Maryland's Robert H. Smith School of Business. "Their basis of comparative advantage is not product or service, it's lower price," he says. "That creates a challenge when trying to build a brand image that's about more than low price."
Korean electronics brands such as Samsung and LG were able to make that jump, thanks to a multidecade effort to boost R&D and match what rivals from Japan could offer. That could be harder for the Chinese in today's environment. "When the market isn't growing," says Gupta, "the competition is going to get more intense."
ZTE's Cheng says his company will try to overcome any resistance to made-in-China brands by presenting itself as a partner of trusted U.S. companies. "You cannot just look at ZTE as a China brand," he says. "The core technology in our product is from U.S. companies like Qualcomm, Texas Instruments, and Google." Besides, says William Plummer, Huawei's Washington-based vice president for external affairs, Americans understand that many of their favorite brands rely on Chinese factories run by Foxconn and other low-cost manufacturers. "Whether it's an Apple device, a Nokia device, or a Huawei device," he says, "they're probably all built by Foxconn."
Before it's here, it's on the Bloomberg Terminal.
LEARN MORE