Why Homebuilder Stocks Are Surging
By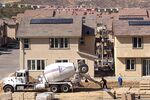 Look around: There remains no shortage of foreclosures and banks struggling under the weight of bad mortgages. The U.S. homeownership rate has regressed back to 1996 levels. Housing prices have fallen a third from their bubble highs.
Yet shares of homebuilders are on track to have their best year on record, with the Standard & Poor's Supercomposite Home Builders index up 48 percent so far in 2012. That's almost eight times the gain of the S&P 500 index. Year to date, Lennar is up 54 percent, while D.R. Horton and McMansion specialist Toll Brothers are each up 48 percent.
Is this The Twilight Zone?
With the sector so cratered out—from its 2005 peak to 2008 trough, the homebuilding index fell 87 percent—investors have accorded outsized weight to good news. Last week, the Commerce Department reported that construction of single-family houses rose 4.7 percent in June to a 539,000 annual rate, the fastest in two years. "The super cyclical housing market has turned and a strong recovery in new-home sales is ahead," Goldman Sachs analysts wrote on July 23 in a bullish report on the builders. "Over the last year a number of risks to the housing market have abated, giving us confidence that rising home prices will drive a 3-7 year up-cycle in the U.S. market."
Contrary to popular belief, there are not 920 empty new homes for every American man, woman, and pug. Indeed, according to analyst David Dwyer of Bloomberg Industries, the recent pace of new home starts is at less than half the 20-year average household growth of 1.2 million, plus an additional 300,000 homes lost annually to natural disasters or demolition. With the 145,000 new homes available in May—the lowest on record dating back a half-century—investors, Dwyer says, are betting that the homebuilders will have to ramp up to meet demand. Orders and backlogs will build, then earnings.
"This industry," says Dwyer, "has historically moved long before the actual financial results." In June, builders started construction on more homes than they have begun since October 2008. Builder confidence is at its highest in five years, total starts are up 24 percent year-over-year, and the seasonally adjusted annual rate of new homes has gained 60 percent from its low in April 2009. "We have certainly bounced off the bottom," says Megan McGrath, an analyst with MKP Partners, a trading shop in Stamford, Conn. "Even though some of these guys don't even have earnings yet."
Oh, yes: earnings. They are notoriously unreliable in the hyper-cyclical realm of homebuilders. Their profit estimates could well prove too conservative if the industry is at a true inflection point. At the same time, investors could be pricing in a too-rosy turnaround too soon, especially in light of the housing sector's still-numerous troubles. Alas, foreclosures remain at 2.5 to 3 times 2005 levels, while initial notices for foreclosures jumped 6 percent in the second quarter—the first annual increase since 2009. It is also unclear to what extent banks are holding off on further foreclosures in order to pace their losses.
Meanwhile, just a day after better-than-expected new home numbers hit the tape, sales of previously owned homes unexpectedly declined to an eight-month low.
This housing bust—widespread, steep, brutish—dies hard.
Before it's here, it's on the Bloomberg Terminal.
LEARN MORE