Organic Milk Rivals in a Tussle Over Trade Secrets
Does the organic milk industry have trade secrets?
by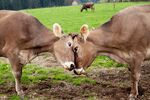 A manager leaves his company to work for a rival. Happens all the time. Two months later, he is sued for breach of contract and he and his new employer are accused of "misappropriation of confidential information and trade secrets." Happens all the time. What's unusual about the case recently filed in U.S. District Court in Denver is that the two companies don't manufacture computer chips or cars or anything very sophisticated at all.
They sell organic milk. Turns out that's a pretty competitive business, too.
Horizon Organic, which is owned by Dean Foods and is the biggest supplier of organic milk in the U.S., sued Organic Valley, a dairy farmer cooperative that is the second-biggest supplier. The employee, Larry Hansen, was dairy operations manager for milk quality and supply at Horizon for four years before taking a similar job at Organic Valley. Horizon claims that Hansen had access to its supplier list, which it keeps confidential, as well as its purchasing price "tolerances and strategies" and sales demand projections, which it also closely guards. Horizon says that because of the sensitive information he was privy to, Hansen had to sign a nondisclosure agreement.
Horizon has a 35 percent to 40 percent share of the market, according to trade publication Dairy Star; it's part of a division, WhiteWave, that had sales of about $2 billion in 2011.
Organic Valley, which had sales of about $700 million last year, calls the lawsuit meritless and without basis. "Horizon claims that the employee, who has been working in the dairy industry for years, must be prevented from working for any competitor in any capacity and that simply hiring the employee was misconduct," Organic Valley spokeswoman Elizabeth Horton said via e-mail. The company has a roughly 24 percent market share.
"We chose to take legal action because neither Larry Hansen nor his new employer, Organic Valley, would otherwise talk to us after repeated attempts," Luana Hancock, a WhiteWave spokeswoman, wrote in an e-mail. "Their absolute unwillingness to enter into any substantive dialogue is puzzling, as we have worked amicably with Organic Valley on various organic issues over the years."
"Maybe one reason Horizon is being so aggressive is that organic milk is in short supply right now," says Mark Kastel, co-founder of the Cornucopia Institute, which advocates for family farms and first wrote about the lawsuit. "Market share will be determined by who has the milk. Is this just a way for Horizon to intimidate the smaller company?" Kastel says there are only 2,000 organic dairies in the country and not that many secrets. Since these two companies dominate the market, if a farmer isn't shipping to one, he's most likely shipping to the other.
While sales of organic milk slowed during the worst of the recession, that's no longer the case. During the first four months of 2012, sales increased by 5.7 percent from a year earlier, according to the U.S. Department of Agriculture. The average price (PDF) of a gallon of organic milk these days: $4.98. Conventional milk: $2.94. At the same time, though, the cost of organic grain and hay to feed the cows has increased. "The margins are very constrained," says Kastel. Which means that fewer farmers are converting their dairies to organic, a process that can take around three years.
The legal process shouldn't take as long. The judge has ordered that depositions begin as promptly as possible.
Before it's here, it's on the Bloomberg Terminal.
LEARN MORE