Organic Milk Rivals in a Tussle Over Trade Secrets
Does the organic milk industry have trade secrets?
By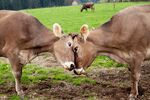 A manager leaves his company to work for a rival. Happens all the time. Two months later, he is sued for breach of contract and he and his new employer are accused of "misappropriation of confidential information and trade secrets." Happens all the time. What's unusual about the case recently filed in U.S. District Court in Denver is that the two companies don't manufacture computer chips or cars or anything very sophisticated at all.