Let the (Facebook) Games Begin!
By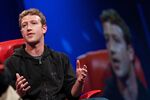 This week marks the opening of a wildly anticipated event that will be closely watched by throngs of people around the world. Billions of dollars, and matters of national pride, hang in the balance. It's the culmination of years of sweat, a dramatic collision of impossible expectations and punishing realities. No, it's not the Olympics. It's Facebook's first earnings report as a public company.
Perhaps we're overdramatizing, but not by much. Facebook's big event, set for after the market closes on Thursday, July 26, could indeed be more watched—OK, listened to (it's a conference call)—than events such as women and men race-walking, to say nothing of Greco-Roman wrestling. And it's packed with just as much personal drama and has elements of narrative frisson that would make Bob Costas sing: genius boy-CEO; overhyped IPO; botched opening day; cratering stock; inevitable blame game.
"This is going to make Apple's earnings this week look like chump change in terms of the amount of scrutiny," says Gene Munster, an analyst with Piper Jaffray. Jordan Rohan, an analyst at Stifel Nicolaus, compares it to the royal wedding. "There are people interested in this earning report who are never interested in earnings reports."
The stock market is already downbeat about Facebook's prospects. The company's shares, which started trading at $38 in the spring, now sit around $29. (Actually, make that under $27, as investors reacted to Zynga's soft earnings report on Wednesday afternoon.) Analysts are expecting revenue of $1.16 billion over the past three months, an increase of 30 percent from the same quarter last year but a deceleration in the company's growth rate. Among the factors weighing on revenue is a declining per-user revenue growth rate—lots of people are still signing up, but many of them live in countries that generate less advertising revenue.
Investors will be looking to glean a few crucial facts during Facebook's conference call. Can the company spark revenue in those regions, such as Asia, with high membership growth? Can it make advertising work on mobile devices such as the iPhone, where users are increasingly accessing the service? Are there more monetization tricks up Facebook's sleeve—a new payments tool, perhaps, or a rumored "want" button that will let users specify products they desire, giving Facebook an avenue into e-commerce?
Investors also want to know if Facebook will indulge them with revenue projections for the coming quarter. And the mighty bears of Wall Street will likely grow angry and implacable if the answer is no.
Then there's Mark Zuckerberg himself. His personal preference, no doubt, is to skip earnings day altogether and leave the responsibility of managing shareholders and analysts to his chief financial officer, David Ebersman, and chief operating officer, Sheryl Sandberg. That's not really in the cards, though. Big investors would feel snubbed and express their displeasure on CNBC and Bloomberg TV. So expect Zuckerberg to show up with his game face on.
He'll have to perform as delicately as a gymnast in striking just the right balance. Zuckerberg's penchant is to articulate Facebook's purpose with missionary zeal, to describe the company as a vehicle to make the world more open and connected. Investors seem tired of that kind of lofty rhetoric. They want to know about the mechanics of monetization, revenue-per-user growth, cost control, and return on investment. "Investors care very little about social missions," says Jordan Rohan. "They care about free cash flows."
So, no pressure, Facebook. The stadium is packed. The audience is ready. Let the games begin.
Before it's here, it's on the Bloomberg Terminal.
LEARN MORE