Could Europe's Rescue Fund Become a Big Bank?
Austria's central banker ponders a new way to fight the crisis
By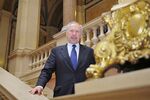 European Central Bank leaders have repeatedly dismissed suggestions that the central bank lend money to the euro zone's permanent rescue fund. Now, with Spain sliding toward a sovereign bailout, the idea has been revived by a member of the ECB's own governing council.
"I think there are pro arguments" for granting a banking license to the European Stability Mechanism, enabling it to borrow from the ECB, Ewald Nowotny, the head of Austria's central bank and an ECB council member, told Bloomberg News in an interview on July 24. Reports of his comments helped snap a six-day decline in the euro, as the common currency rose more than half a cent against the dollar, to $1.21, in early trading on July 25.
"This is potentially a game-changer," says Vincent Chaigneau, global head of interest rate strategy at Société Générale in Paris. Letting the ESM borrow from the central bank would give it access to a much-deeper funding pool, easing fears that its current €500 billion ($620 billion) cash pile won't be enough if Spain needs aid.
The fact that the suggestion comes from a representative of Austria—one of the "creditor" countries whose borrowing costs could rise as a result of the move —underscores alarm that the European debt crisis is about to get much, much worse. Yields on Spain's sovereign debt have risen well above the 7 percent level that led Greece, Ireland, and Portugal to seek bailouts. Italian debt yields are increasing, too. "Europe is sleepwalking toward a disaster of incalculable proportions," a group of leading European economists said in a report issued July 24. Their recommendations, issued by the New York-based Institute for New Economic Thinking backed by investor George Soros, included giving the ESM a banking license, "so that it can access the ECB's discount window."
The proposal is clouded, though, by a host of political and legal questions. German officials have consistently rejected the idea, and while Austria generally has sided with Germany on handling the debt crisis, "Nowotny sometimes throws ideas on the table that do not necessarily reflect the view of the governing council," says SocGen's Chaigneau. ECB President Mario Draghi has said that such an arrangement would amount to the central bank financing national governments, which is prohibited by European Union law. The ESM isn't even in business yet; the EU decided only last year to set it up, and the new entity isn't expected to be fully operational for at least several months.
Europe could probably finesse the legal issues. Some publicly owned lenders, such as the European Investment Bank, are already allowed to borrow from the ECB. Nowotny declined to elaborate on the ESM banking-license idea, saying only that it was "part of a broad discussion." The bigger obstacle is political, says Grant Lewis, head of research at Daiwa Capital Markets Europe. Such a move is "highly improbable," as Germany and most ECB leaders are "implacably opposed," he wrote in a research note.
Still, it's becoming clearer by the day that Europe needs better tools in its crisis-management kit. "We know many trial balloons have been released in recent weeks, and so warn against getting too excited" by Nowotny's suggestion, Marc Chandler, global head of currency at Brown Brothers Harriman, wrote in a note to clients. "However, it could signal a softening stance as the crisis intensifies and necessitates bolder action."
Before it's here, it's on the Bloomberg Terminal.
LEARN MORE