Could Europe's Rescue Fund Become a Big Bank?
Austria's central banker ponders a new way to fight the crisis
By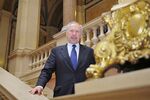 European Central Bank leaders have repeatedly dismissed suggestions that the central bank lend money to the euro zone's permanent rescue fund. Now, with Spain sliding toward a sovereign bailout, the idea has been revived by a member of the ECB's own governing council.