Nicira's $1.26 Billion Path From Espionage to Acquisition
by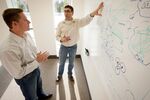 Over the last couple of years, data center aficionados in Silicon Valley have spent an awful lot of time gushing over Nicira Networks, a startup that promised to revolutionize the networking industry. Now the gushing has turned to jaw-dropping jealousy, as VMware has just agreed to buy Nicira for $1.26 billion in cash and stock.
Nicira has been billed as the virtual networking company. This basically means it's using software to handle a lot of networking functions typically done by hardware such as switches to help computers communicate with each other. In a traditional data center, administrators have to configure the physical wiring among switches, storage systems, and computers and set up pretty rigid policies to govern the flow of information across all the hardware.
The software approach favored by Nicira adds flexibility because people can use a control screen to adjust virtual connections as they see fit. The technology proves particularly useful in large cloud computing centers, where companies must manage tens of thousands of systems and try to balance traffic across all those computers. VMware is a natural suitor for this type of technology. After all, it popularized virtual—or software-based—servers and has been on a quest to handle most of the core data center functions in software. The company has done work on its own virtualized networking technology, while also now acquiring some cutting-edge help.
That said, VMware, which is 80 percent owned by EMC, has been a longtime ally of Cisco Systems, the world's largest networking company, and the deal could complicate that relationship. Nicira's technology is seen as a threat to Cisco, which dominates the physical switch business.
Nicira really grabbed my attention back in May 2011, when its offices were robbed in an apparent espionage attack aimed at stealing the company's source code. The company has since gone on to garner a lot of favorable press and to win over top-tier customers like AT&T, EBay, and Fidelity. The heart of its technology grew out of research done at Stanford University.
This megadeal figures to be the last in a string of acquisitions by VMware Chief Executive Officer Paul Maritz. Come September, Maritz will go over to EMC to become chief strategist. Meanwhile, Pat Gelsinger, currently a top executive at EMC, will become VMware's CEO. (Even though EMC owns most of VMware, it's still weird to see two public companies swap executives like this, especially when they say nothing of the players to be named later and cash considerations involved in the trade.)
Gelsinger will be the guy tasked with taking VMware from its position as king of the very lucrative server virtualization niche to becoming a much, much broader cloud computing player going to war against Microsoft, Google, Amazon.com, and others. VMware does not want to run cloud computing services so much as sell large companies all the software they need to create their own "internal" cloud—to treat their data center as a computing whole instead of piece parts.
As for Nicira, the founding team obviously made out well, but the sale would seem to indicate doubts about the broad appeal of the technology. This is the year of the business computing initial public offering, with close to 10 companies going, or planning to go, public. Such companies as Palo Alto Networks and Workday hope to become the multibillion-dollar empires of tomorrow, while Nicira is selling out just a couple of months after it unveiled its technology.
Before it's here, it's on the Bloomberg Terminal.
LEARN MORE