GOP Cuts Are Targeting Research to Fix Hospitals
By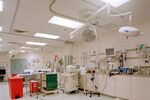 NYU Langone Medical Center announced changes to its discharge procedures last week following the death of a 12-year-old boy who was sent home with a more serious infection than his doctors recognized. The idea, of course, is to ensure that the same thing never happens again—at NYU Langone, at least.
On the same day the new policy came down, Republican members of Congress were busy trying to gut the arm of the federal government that pushes hospitals nationally to make those very kinds of improvements in patient care. Known as the Agency for Healthcare Research and Quality (AHRQ), the obscure office and its $400 million budget came under the knife on July 18 in House budget talks—the same round that stripped funding for Obamacare. "Spending cuts aren't easy, but they are absolutely necessary if we're going to get our country back on track," Montana Republican Rep. Denny Rehberg, chair of the House subcommittee that proposed cutting AHRQ's funding, said in a statement. (Rehberg declined interview requests.)
Just as the National Institutes of Health funds studies that lead to new drugs and treatments, AHRQ provides grants to researchers looking for ways to make hospitals safer and treatment more effective. One significant study AHRQ funded a decade ago, for instance, identified a series of simple steps doctors should take to avoid infection when putting IVs into major blood vessels—steps such as putting on a fresh gown, gloves, and mask, and cleansing the skin with a special antiseptic soap. "Most people were doing some of those, but not all of those," says Nancy Foster, vice president for quality and patient safety policy for the American Hospital Association. "You have to do every one of them each time in order to have the desired effect." After the precautions became standard practice, infections in intensive care units dropped 58 percent from 2001 to 2009, according to the Centers for Disease Control. The CDC estimates that in one year alone, the change saved 6,000 lives and $414 million—roughly AHRQ's budget for last year.
American hospitals need more such standardization—not less, says Dr. Marty Makary, a surgeon at Johns Hopkins Hospital and professor at the university's Bloomberg School of Public Health. In Unaccountable, a book coming out in September, Makary details how hospitals can deliver wildly different care for patients with the same conditions. More transparency would let patients compare hospitals and choose the best performers, putting market forces to work improving quality, he argues. "Look at the tremendous benefit already of just public reporting of infection rates," Makary says. "When those things are out there, hospitals move."
AHRQ is currently funding research on how to lower hospital re-admission rates and to improve doctors' ability to report and learn from medical errors. The full House has yet to vote on the spending bill that would cut its funding. Dr. Carolyn Clancy, the office's director, says abolishing it could end up making health care more expensive than it already is. "There's a growing body of evidence that says we can make care more affordable by improving performance," she says. "Our focus is relentless because we know how urgent the problems are."
Before it's here, it's on the Bloomberg Terminal.
LEARN MORE