Getting Started in Government Contracting
by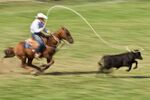 My small business does collections and credit checks. Just a few weeks ago I read your article about government business opportunities for minority-owned businesses. We are not in the construction industry but are very interested in finding out about opportunities available to small business owners like us. Can you direct me? —A.C.W., Colorado Springs, Colo.
Contracting with local, state, or federal government agencies can be lucrative for small companies. Particularly valuable in uncertain economic times, government contracts can provide you with stable customers, prompt payment (15 days in many cases), and—often—a pipeline of repeat business.
In your case, state and local agencies commonly use outside contractors for projects such as collecting on parking violations or court-mandated spousal support. Getting contracts locally is likely to be quicker and easier for small companies, and the work can help you decide whether you want to pursue bigger contracts. The federal government does contract out collection services on defaulted loans, says Mark Amtower, a government marketing consultant in Highland, Md., and author of Selling to the Government.
Browse the Federal Business Opportunities website to see what kinds of contract opportunities might be available to your business. You will need to identify your company's North American Industry Classification System (NAICS) code in order to use the site. If you don't know your code, ask your accountant for help or search this section of the U.S. Census site.
If you see promising possibilities, pursue them—but be prepared to devote considerable time and money to this effort. Most small companies that attempt to capture government business fail, says long-time contracting consultant John C. Lauderdale III of Proposal Leadership in Herndon, Va. The failures are due to lack of good information, unfamiliarity with government processes, bad advice, and lack of funds to get started, he says.
Lourdes Martin-Rosa, government contracting adviser at American Express OPEN, agrees. She speaks to groups of small business owners around the country and estimates that no more than 10 percent of those who hear her advice act on it. "Clearly, this takes a lot of due diligence, it's an uphill battle, and it will cost you money." She estimates the upfront cost of pursuing what is known as a small, disadvantaged business certification at about $3,500 and around eight months of your time. You will need the certification in order to get priority bidding status on federal contracts.
Start with free help from your local Procurement Technical Assistance Center or Small Business Development Center, Martin-Rosa recommends. Additional resources that might apply to you include the Small Business Administration's Women's Business Centers and the Minority Business Development Agency.
Those who decide to hire a private consultant to walk them through the certification process ought to make sure they talk to other small businesses that a prospective consultant has helped get certified in order to make sure that the consultant is actually certified. "I've seen people burned with astronomical amounts, and they weren't even qualified for certification," Martin-Rosa says.
The U.S. Women's Chamber of Commerce is co-hosting a federal contracting summit on Aug. 1-2 in Washington. Such events are held regularly around the country, providing education and opportunities to meet with procurement representatives and begin forming relationships with them, says Chief Executive Officer Margot Dorfman. If you can't attend an event, the chamber has extensive resources on its website and often schedules online training sessions you might find helpful. "Federal contracting is not an instant-gratification process and not for the faint of heart," she says. Most small companies that succeed spend years identifying which agencies are most likely to hire them and learning how to compete for contracts. "Bidding on contracts has a cost to it and you may not win the first time," Dorfman says.
American Express also offers resources on its small business contracting site, and it hosts educational events regularly around the country.
Once you have some background on whether government contracting is right for your company, the easiest way in is to subcontract for a larger company that is already doing contracting, or team up with other small companies that do similar work, Dorfman says. "Look for subcontracting opportunities as a first alternative and to get the experience without the headaches of regulatory compliance." Along with meeting government procurement agents, attending a contracting event will allow you to network with other small contractors and to meet potential partners.
Before it's here, it's on the Bloomberg Terminal.
LEARN MORE