business
Could Kickstarter Crowdfund Journalism?
Mathew Ingram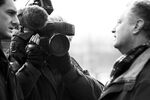 Under increasing financial pressure from the Web and the decline of print advertising, newspapers and other traditional media outlets have been laying off staff and trying to fill the gap with services such as Journatic—the hyper-local aggregator that uses offshore workers— or simply doing without such things as copy editing. Are there further solutions to that reporting gap? Crowdsourcing journalism through sites like Reddit could be one, but crowdfunding could be another: One journalist in Michigan has raised funding through a Kickstarter campaign so he can travel around the U.S. interviewing people about the upcoming election. Could crowdfunding allow other journalists to do investigative or in-depth projects as well?
Media blogger Jim Romenesko first called attention to the campaign by Chris Killian, a journalist from Kalamazoo who came up with the idea of driving through swing states such as Iowa, Pennsylvania, and New Hampshire in order to take what he calls the "pulse of the people." On Sunday, just a few days after Romenesko's report, Killian said he had reached his campaign goal, although it should be noted that it was not very ambitious: He was seeking only $2,500 for living expenses because he plans to live and work out of his 1984 Volkswagen camper van; $2,000 of the total figure is for gas.
Killian says he wants to get what he calls "grass-roots, organic and sincere stories" from everyday people about their lives and the economic prospects in their parts of the U.S. He said he plans to talk to people of all political stripes and ask them "what we need to do differently to tackle the big challenges that we need to face to grow and prosper. Is the American Dream still alive?" The Michigan-based journalist, who is a staff writer for the daily newspaper in Kalamazoo but is also a freelance writer, says video and audio interviews will be available on a website for the project, called "Swing State Stories."
Without meaning any offense to Killian, his project is somewhat eccentric, and the amount he is asking for seems almost absurdly low, especially when we are used to reading about a school-bus monitor who got more than $500,000 after being bullied by her charges, or a young boy whose cardboard arcade at his father's auto-parts store led to more than $200,000 being donated to his college fund. But could the core idea—raising money from potential readers for a specific project—work in principle for other journalistic pursuits? And would it work for mainstream media outlets, or just individuals?
The idea of crowdfunding journalism isn't new: Journalist and entrepreneur David Cohn started a company called Spot.us to do that in 2008; he had some notable successes, such as a feature on the "garbage patch" in the Pacific Ocean, a joint project with the New York Times. Earlier this year Cohn's company was acquired by American Public Media and merged with the Public Insight Network, and its website says it has more than 15,000 contributors and 110 publishing partners. (Cohn has since moved on to a new project, a media startup called Circa.)
It's probably fair to say Spot.us isn't really a household name—at least, not in the way Kickstarter has become the poster child for crowdfunding of both products and causes (although the bus-monitor fundraising came through competitor Indiegogo). In that sense, using Kickstarter might be more likely to win journalists some awareness and credibility if they were to start campaigns for specific research projects, as Killian has. I have seen estimates from newspaper editors that the typical investigative project requires about $200,000 in funding for a paper to pursue. Could that amount be crowdfunded? Perhaps.
That said, however, I'm not sure whether a platform like Kickstarter or Indiegogo or even Spot.us would work that well if a campaign were to be launched by a major newspaper or the owner of a chain such as Advance Publications, which has been laying off staff and shutting down printing at some of its newspapers. That kind of behavior isn't likely to endear a media outlet to readers, or make them want to donate money to it, whereas a unique or even eccentric project from an individual journalist like Killian seems to be more in the spirit of a Kickstarter campaign. Indie musician Amanda Palmer raised $1 million for a record and tour, but a record label would be unlikely to see such success.
It would be interesting to see other journalists experiment with the kind of thing Killian is doing. Some projects have fit a similar mold, including one in which independent cartoonist and war correspondent Ted Rall raised money for a reporting trip to Afghanistan in 2010. Maybe Morgan Jones, the 18-year-old who turned a Reddit thread into a journalistic outlet during the recent shootings in Colorado, could raise money to turn his account on the site into a permanent reporting gig.
Also from GigaOM:
Flash Analysis: Future Opportunities for Pinterest (subscription required)
What Impact Will LTE Add to RIM's PlayBook? (HInt: Zip)
Pontiflex Launches Automated Social E-mail Tool for Merchants
Box Embraces Windows Phone (Half Heartedly)
Smart Grid VC Funding Has Been "Extremely Weak"
Before it's here, it's on the Bloomberg Terminal.
LEARN MORE