Colorado Gun Sales Surge After the Aurora Massacre
Background checks jump more than 40 percent during the three days following the mass shooting in Colorado
By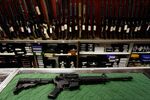 Background checks for people wanting to purchase firearms in Colorado spiked more than 40 percent this past weekend, after a gunman opened fire in a suburban Denver movie theater, killing 12 people and wounding 58 more.
During the three days following the July 20 shooting, gun dealers submitted 2,887 requests for state background checks, compared with 2,012 during the same period a week earlier, according to the Colorado Bureau of Investigation.
Booming gun sales following mass shootings are not unusual. Immediately after a Glock-wielding gunman killed six people at a Tucson shopping center in January 2011, for example, one-day sales of handguns in Arizona jumped 60 percent, to 263, according to FBI data obtained by Bloomberg.
Sales of the Arizona killer's weapon, meanwhile, doubled. "For the next two weeks, you couldn't buy a Glock pistol at a retail store anywhere in this country unless you were related to the owner," recalls Richard Feldman, president of the Independent Firearm Owners Association (IFoA). As my colleague Paul Barrett explains in his book Glock: The Rise of America's Gun, "It was the same old story: A demonstration of the Glock's potency—even in the hands of a mass murderer—immediately sent firearm buffs to buy another one."
One reason for the spike in gun demand is the understandable desire for safety and self-defense. "Whenever there is a huge event, especially when it's close to home, people do tend to run out and buy something to protect their family," Don Gallardo, a manager at Arizona Shooter's World in Phoenix, told Bloomberg News.
In many cases, gun owners also stock up on guns and ammo after mass shootings in anticipation of increased gun regulation. "It's kind of a fear buying syndrome," says Feldman. "There are people that go, 'Wait a minute, they may outlaw that gun!'"
Despite the unlikelihood of increased gun regulation being imposed anytime soon, as Barrett explains here and here, gun sales have reached an all-time high under the Obama administration. Another colleague of mine, Joshua Green, examines the surprising trend here and here.
In one post, Green writes:
Dealers and analysts have several theories. One is that hard-core gun enthusiasts fear the lousy economy will set off a crime wave. Another is that political upheaval over the federal debt may lead to riots like those in Greece and London. Still another popular, if paranoid, belief that's taken hold among gun-rights advocates: that Obama is waiting until he is reelected to separate Americans from their firearms, prompting worried gun owners to stock up in anticipation.
IFoA's Feldman says the Colorado gun sales boom is likely linked to politics. "It has to do with the presidential and congressional elections," he explains. "Here's my prediction: If Obama wins, there's going to be a very substantial gun buying frenzy that … will continue for six to nine months and then taper off. If Romney wins, the buying frenzy ends [on] 10 a.m. Wednesday morning. No one will be buying guns. Retailers will cancel their orders to distributors."
Before it's here, it's on the Bloomberg Terminal.
LEARN MORE