B-School Twitter Roundup
Alison Damast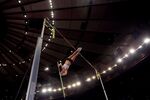 This week's Twitter roundup of happenings in the business school world includes a group of students who are developing a business plan for a new city in Honduras, innovative changes to the application essays at Duke's Fuqua School of Business, and a recent MBA graduate who is starting a social network for the senior set.
A new admissions letter allows incoming undergraduates at the University of California, Berkeley's Haas School of Business to choose to connect with alumni chapters before they begin school; 97 percent of students took advantage of the offer (@richlyons, 7/16).
A team of MBA students at New York University's Stern School of Business worked this spring with Paul Romer, a professor of economics, on developing a business plan for a a new city in Honduras that will be a special reform zone with its own administrative systems and laws (@NYUStern, 7/17).
Brandeis University's International Business School will offer four new specializations to students this August: asset management, corporate finance, risk management, and marketing (@BrandeisIBS, 7/17).
Alsherif Wahdan, a 2008 MBA graduate of the Thunderbird School of Global Management and leader of the school's Cairo alumni chapter, reflects in a blog post on his experience in Cairo during the uprising in January 2011 and his two visits to Tahrir Square (@Thunderbird, 7/18).
Business students at Lynn University's College of Business and Management are spending time in London this July, touring major Olympic venues, meeting with officials, and writing reports on the summer games for an "Olympic Games Experience" course (@DeanTomKruczek, 7/18).
David Pye, a recent graduate of Arizona State University's Carey School of Business, is starting an online network for people 50 and older called Localicy, which will allow them to connect on different issues that range from politics to health (@WPCarey School, 7/19).
Michael Zacchea, a decorated U.S. Marine and an MBA graduate from the University of Connecticut's School of Business, has been tapped by the school to run a program that will help recruit and support veterans (@UConnBusiness, 7/19).
Megan Lynam, director of admissions at Duke University's Fuqua School of Business, blogs about changes to Duke's application essays and how applicants should approach a new question that asks them to write a list of 25 things that "illuminate your passions, personality, quirks, hopes, [and] fears" (@DukeFuqua, 7/21).
Jillian Schwartz, an incoming first-year MBA student at the University of Chicago's Booth School of Business, will be competing in the London Olympics this summer in the pole vault competition  for Israel's Olympics team (@Booth_Insider, 7/23).
Kevin Werbach, an associate professor of legal studies at the Wharton School, will be teaching Gamification, a free, six-week online class, starting Aug. 27, through the online educational platform Coursera (@Wharton, 7/23).
Join the discussion on the Bloomberg Businessweek Business School Forum, visit us on Facebook, and follow @BWbschools on Twitter.
Before it's here, it's on the Bloomberg Terminal.
LEARN MORE