After Repealing Obamacare, What Would Romney Replace It With?
By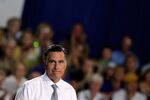 There's a lot we don't know about Mitt Romney—such as what's in his 2009 tax returns, or his position on a number of important issues. One thing we do know: As president, he would "act to repeal Obamacare" on his first day in office.
Which is why it's interesting that, as Robert Pear of the New York Times points out, a top Romney aide is also serving as an adviser to states looking to set up the state health-care exchanges that are at the heart of the Affordable Care Act. Former Utah Governor Michael Leavitt, a Romney friend who was George W. Bush's secretary of Health and Human Services, has advised states including New Mexico and Pennsylvania on how to start the exchanges, where low- and middle-income people and small businesses without health plans will be required to buy insurance. Leavitt has also helped states prepare to expand their Medicaid rolls, something some GOP governors, such as Florida's Rick Scott, hotly oppose.
Does Romney's choice of Leavitt to lead his transition team mean the candidate also supports state exchanges? Romney hasn't said. In the health-care section on his campaign website it says his plan will "ensure flexibility to help the uninsured, including public-private partnerships, exchanges, and subsidies." But he hasn't spelled out what that means.
So I e-mailed the Romney campaign: Would a President Romney take away the more than $1 billion in federal grants that states have already been allocated to help set up exchanges? Would a President Romney take away the billions in federal subsidies that individuals and businesses will receive to help them afford health care on the exchange? If states choose to enact their own mandates, which Obamacare currently allows, would a President Romney seek to curtail their ability to do that?
Romney spokesman Ryan Williams answered:
Here is our response: "On Day One, Mitt Romney will issue an executive order that will allow states to opt out Obamacare's onerous requirements. He will then work to completely repeal Obamacare and replace it with real reform that strengthens the health-care system and gives states the flexibility to develop the right solutions for the challenges they face."
Translation: Romney has no plan—or at least not one he's willing to share with the people he's asking to elect him.
Before it's here, it's on the Bloomberg Terminal.
LEARN MORE