On Mondays, Workers Opt for Salad, Show More Willpower
by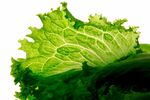 The line at your local salad bar may be longer today than on any other day of the week.
Weekday salad sales are highest on Mondays and lowest on Fridays, New York salad bar chains Fresh & Co. and Café Metro and Florida-based Salad Creations tell Bloomberg Businessweek.
"We think it's because people are a little repentant about their weekend," says Colin McCabe, founder of Chop't, a salad company in New York and Washington, D.C. Chop't usually sells 10 percent more salads on Mondays than on other days of the week, though its Tuesday sales on occasion can be higher.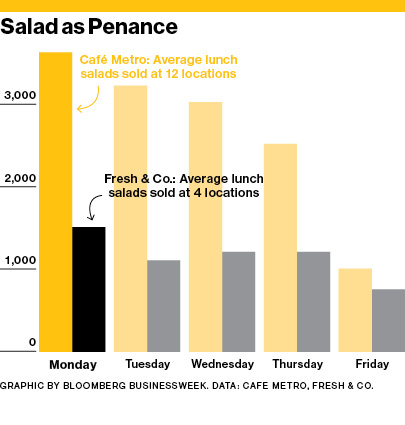 Jeff Levine, chief executive officer and president of Salad Creations, which has 51 locations in the U.S., Brazil, Kuwait, and Panama, says the company increases staff on Monday, as sales typically exceed Friday by about 17 percent to 22 percent, and are 7 percent to 15 percent higher than on Tuesday through Thursday.
Willpower tends to wane as the week progresses. The workweek peak for burger chain Shake Shack is lunch on Fridays (Saturdays are busiest overall), says spokesperson Edwin Bragg.
Mondays aren't merely focused on healthier eating. People are also more likely to start diets and exercise regimens and quit smoking on Mondays, according to research from the Johns Hopkins Bloomberg School of Public Health. It's also the day when Internet searches for health information are the highest.
Celebrities are even touting the value of Mondays. Miley Cyrus tweets, "Putting that positive Monday energy out there. … LET'S BE SUPER HEALTHY THIS WEEK."
A similar tradition, "Meatless Mondays," began as a campaign by the U.S. Food Administration during World War I to reduce consumption of meat to aid the war effort. The practice was brought back during World War II, according to Monday Campaigns, a nonprofit health initiative. Today, health and environmental concerns rather than patriotism inspire many people to favor vegetables at the start of the week.
Of course, salads don't have to be meatless. They aren't even always that healthy, depending on how much oil, cheese, and other fats are added to the bed of greens. "I think salad is the healthiest food if you choose to eat a healthy salad," says McCabe. Still, "you feel better after eating a salad than eating a burrito in the same caloric range." Even when salads are high in calories, they're still low on guilt.
Before it's here, it's on the Bloomberg Terminal.
LEARN MORE