Short-Timer Ron Paul's Last Shot at Legalizing Pot
By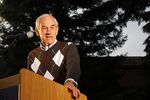 Apparently, retiring 12-term Congressman Ron Paul (R-Tex.) is trying to go out not with a bang—but in a cloud of smoke.
This week a bipartisan group of House lawmakers proposed a bill that would protect medical marijuana growers facing a spate of federal crackdowns. The Truth in Trials Act, sponsored by Representative Sam Farr (D-Calif.) and co-sponsored by Paul, would give businesses a right to prove in court that their actions were legal under state law—what's known as an "affirmative defense."
It's a fitting denouement for a man whose campaign rallies feature supporters dressed as marijuana leaves. He's repeatedly introduced a similar bill since 2001. Paul rarely passes up the chance to pronounce his views on why the federal government should stay out of pot growers' backyards.
It's not clear whether Paul will score this last victory on the way out. He is nonetheless feeling somewhat vindicated as he prepares to leave office. Though he never stood a chance at becoming president, his ideas on limited government have become mainstream GOP thinking and his campaigns have influenced a new crop of candidates to run for office around the country. In the Senate, his son Rand Paul is pushing to legalize industrial hemp. And last month Connecticut became the latest state to make medical marijuana legal.
Yet Republican leaders still view Paul as an oddity they'd prefer to keep at a distance. For the second time, they've denied him a speaking slot at the Republican National Convention. That may not be the end of it. His loud, tireless adherents are fuming—and say they won't rest until they see their man on the podium in Tampa.
Before it's here, it's on the Bloomberg Terminal.
LEARN MORE