Power to the People
Harold L. Sirkin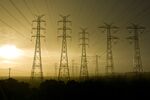 Counterculture guru Timothy O'Leary wasn't thinking about electric power or broadband width when he urged some 30,000 hippies at a January 1967 "Human Be-In" at San Francisco's Golden Gate Park to "turn on, tune in, drop out."
But that's my message: If we don't turn on by updating America's electric grid and tune in by expanding Internet bandwidth in the U.S., we might as well drop out of the competition for global economic leadership in the 21st century.
While roads are the arteries that carry our economic lifeblood, the electric power grid is the beating heart of our economy.
Described by energy and infrastructure expert David Fessler, an analyst for the website Investment U, as the "largest system of interconnected machines on the planet," the power grid includes some 9,200 generating units and a transmission-tower network that stretches more than 300,000 miles. But the system is aging, and we've been far too slow in expanding capacity for future needs.
For example, the Electric Power Research Institute noted last year that most of the large transformers that regulate power transmission are designed with life spans of 40 to 50 years. The average age today, EPRI said, is 42, and many are starting to have age-related problems. No wonder we have so many problems when storms hit.
The American Society of Civil Engineers, in an April 2012 report, worries about the "national electricity infrastructure gap." Without new investment, ASCE concluded, "service interruptions and capacity bottlenecks" will become more frequent and unpredictable, costing businesses and households billions of dollars annually.
The problems are similar in the area of broadband. According to the Organization for Economic Cooperation & Development (OECD), the U.S., the inventors of the Internet, in 2011 ranked 15th among 30 developed and developing nations in deploying broadband services. In the 1990s, we were among the leaders.
In the economy of the future, being turned on and tuned in will be critical, more than it is today. Yet nearly a third of all U.S. households still don't have broadband access, according to a November 2011 Commerce Department report.
Progress is being made in small steps. During the current 2012 fiscal year (ending Sept. 30), for example, the government's Broadband Technology Opportunities Program, administered by the National Telecommunications and Information Administration, had as its goal the deployment of "50,000 new or upgraded network miles across the country."
This may sound like a lot, but it's a flyspeck in the grand scheme of things, when you consider, as the Associated Press reported recently, that "It took about 10 years for two North Dakota telecom cooperatives to plan and build a 10,000-square-mile broadband network" in that one state.
Like roads and airports, when we shortchange needed investments in the power grid and our broadband network, we are shortchanging our children's future.