Passport to an MBA: INSEAD
by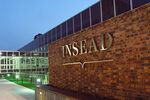 Passport to an MBA is an occasional series featuring interviews with MBA students from all over the world. The interviews were conducted at top business schools by Matt Symonds, chief editor of the business school website MBA50.com and a Getting In guest blogger.
In the last few years, entrepreneurs have become the rock stars of the business school campus. MBA programs are reporting higher numbers of students going on to pursue startup projects, entrepreneurs are regularly invited to speak to students about their ups and downs, and for those who put their hands in their (deep) pockets they can expect to have a building or even the school in their name.
By recruiting entrepreneurs into the MBA program, business schools can also diversify the professional experience in the classroom, offering hands-on learning from those who have toiled in the trenches. Kamm Kartchner is a good example. Raised in a small town in Arizona, he worked in construction to pay his way through school, and ultimately turned his college job into a small company of his own.
He's not your conventional MBA student, but wanted a formal business education and the chance to build a network that would help him with future ventures. "I knew I wanted to be involved with international business, and INSEAD was an obvious choice. Theoretically I can do business anywhere and instantly have contacts."
What follows are edited excerpts of my interview with Kartchner. Click here for a video of the complete interview.
What have you learned from the MBA that will be valuable for your next entrepreneurial adventure?
One of the most influential courses at the school was called Realizing Entrepreneurial Potential. I came to INSEAD with the idea that my next step was to buy a small company and build it up. The course involved a professor who has done that—he teaches us the steps he took, the pitfalls to watch out for, and how to go through the process of finding a company, evaluating the company and the industry, making an offer on the company, and then turning around and running the company after you have bought it. That's probably one of the best classes as far as education and learning that has a lot of real-life application to me immediately.
How was the learning experience structured so that you've got real takeaway knowledge?
Part of the course requirement was actually to go out and find a company to evaluate, and talk to the owner, talk about selling the business, talk about what you were willing to offer—shop around, if you will. So I actually found a really good business during that process which I have since made an offer on, and I'm negotiating terms with the seller right now.
So can you teach entrepreneurship?
I think you can teach entrepreneurship. What's hard to teach is the willingness to be an entrepreneur. Lots of people say they want to be an entrepreneur, but when it comes right down to it, it's hard for anybody to take that step and really do it when there are so many more secure jobs. There is a lot of pressure there and uncertainty going forward. It's nice when somebody comes in and says, "OK, I've got a job for you as a consultant, I have a signing bonus for you, we'll make sure that you get moved and everything. And you've got a monthly paycheck." When you are an entrepreneur you have no guarantee of anything.
Join the discussion on the Bloomberg Businessweek Business School Forum, visit us on Facebook, and follow @BWbschools on Twitter.
Before it's here, it's on the Bloomberg Terminal.
LEARN MORE