business
On China's Web, Green Activists Grow Bolder
By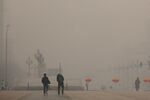 When residents of Shifang, in Sichuan province, started worrying about the environmental impact of a planned molybdenum copper plant, they aired their concerns on the Internet. "Without doubt, Shifang will become the biggest cancer town in years," said a post on Sina Weibo, one of China's two Twitter-like microblogging sites. "An overdose of molybdenum may cause gout, arthritis, malformation, and kidney problems," warned another, according to China Elections and Governance, a website launched by the Carter Center in Atlanta and Beijing's Renmin University of China.
On July 1, while the censors of the Web remained on the sidelines, thousands of protesters, including students, took to Shifang's streets. After several days of protests attracted national attention, largely through online video of local police tear-gassing demonstrators, officials agreed to halt the plant's opening. "The information and pictures shared through Weibo aroused national attention," says Ma Jun, the Beijing-based environmentalist and founder of the Institute of Public and Environmental Affairs, a nonprofit that monitors corporate environmental performance.
The health hazards of Beijing's air have been publicized widely through both the Twitter feed of the U.S. Embassy, which provides hourly readings of air quality, and the writings of microbloggers such as real estate tycoon and Beijing resident Pan Shiyi, who has urged the government to improve the measurement of pollution. Others blog regularly on food safety and water quality. Ma estimates there are well over a thousand Weibo accounts that address environmental issues.
Protesters previously have used the Internet and phone texting to organize and publicize projects seen as environmentally damaging, including a paraxylene plant under construction in the coastal city of Xiamen in 2007, the extension of the Maglev high-speed train in Shanghai in 2008, and the construction of a garbage incinerator in Guangzhou in 2009. But it wasn't until protests by more than 12,000 people, organized nationally online, forced officials to announce they would relocate another paraxylene plant in Dalian last August that it became clear just how influential social media are.
Propaganda officials usually expend great effort to control what runs online. The monitoring system that searches for keywords such as "Dalai Lama" and "Tiananmen Massacre," ensures that most Chinese never read about these topics. When it comes to the environment, authorities appear now to be more lenient. "Environmental and food safety affects everyone. In China, even the most privileged people can't live in a bubble," says Jeremy Goldkorn, founding director of Beijing-based Danwei, a China Internet and media research firm. "With food safety and environmental issues, there is a little bit more room for people to make noise."
(
Replaced with magazine version.
)
Before it's here, it's on the Bloomberg Terminal.
LEARN MORE