Is Paid Sick Leave Good for Business?
A look at San Francisco shows that mandated sick leave can be good for both employees and business owners
By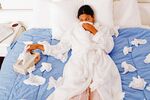 A group of influential women, led by feminist author Gloria Steinem, is making a renewed push in New York for City Council Speaker Christine Quinn to allow a vote on a bill that would require businesses to give their employees paid sick leave. Two years after quashing that effort, Quinn says paid sick leave remains a worthy goal but that she is standing by her prior decision.