Uncle Sam Wants You ... to Hire More Vets, Women, and Minorities
By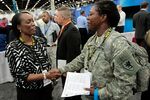 St. Jude Children's Research Hospital in Memphis has garnered national attention for its work treating children battling cancer and other deadly diseases. Yet in the eyes of the U.S. Department of Labor, the nonprofit is just like any of the other 140,000 or so companies that do business with Uncle Sam. St Jude's secured more than $17 million in government contracts last year for projects. Those awards mean it must follow the same employment laws as such giants as weapons maker Lockheed Martin and computer maker Hewlett-Packard.
That's becoming harder every year, Dana Bottenfield, St. Jude's director of human resource information systems, told a U.S. House of Representatives subcommittee in April. U.S. affirmative-action "standards require that we have the perfect mix of gender and racial groups for every job category," Bottenfield said at the hearing. St. Jude's uses special software and enlists the help of consultants and attorneys to ensure it satisfies government rules. Nonetheless, a 2009 government audit of its hiring practices lasted eight months, she said. The total cost: $37,000 and 400 employee hours.
While some of the affirmative-action statutes on the books are almost 50 years old, the Obama administration has been more aggressive than previous governments about enforcing the laws, which apply only to federal contractors. In 2011, the Labor Department cited businesses for the largest number of affirmative-action violations in at least nine years as it sought to boost hiring of veterans and people with disabilities. The 2,682 citations in the fiscal year that ended Sept. 30 was the most since at least 2003, the last year for which comparable data were available.
"It's a new world," says Christine Hendrickson, an attorney at Seyfarth Shaw in Chicago who works with companies on affirmative-action issues. "We tell our clients that as soon as they get an audit letter they should treat it as if they've just been served with a class-action lawsuit."
The enforcement efforts are designed to ensure that vendors hire, retain, and promote groups such as women, minorities, veterans, and people with disabilities. By law, most federal contractors must take proactive steps, such as sending job notices to state employment offices to broadcast openings. They're also typically required to archive demographic data on job applicants, employees, and pay levels for at least two years.
More than half the violations last year were tied to regulations targeting employment of disabled people and veterans. "These are failures involving outreach, recruitment requirements, record keeping," says Patricia Shiu, director of the Labor Department's Office of Federal Contract Compliance Programs (OFFCP). "It's a very important part of what we do, because in order to have a robust applicant pool that results in people getting jobs, you have to have really good outreach."
The Labor Department can force vendors to pay wronged employees back wages or debar them from contracting if they refuse to address the violations. Most companies sign agreements with the department that protect them from penalties, Shiu says. In March, FedEx agreed to pay $3 million to settle charges of hiring discrimination brought by the Labor Department. The company did not admit wrongdoing. In a press release, the OFCCP called it the largest financial settlement it had negotiated since 2004.
Under President Barack Obama, the compliance office has gotten a significant boost in resources. Its annual funding rose 25 percent, to $105 million in fiscal 2011 from $84 million in fiscal 2009, while the agency's full-time staff increased 29 percent, to 755 from 585, during the same time period, according to budget documents.
Compliance efforts can go too far, according to attorneys for Frito-Lay, which filed a federal lawsuit against Shiu and Department of Labor Secretary Hilda Solis last month in Texas. In July 2007, the OFCCP told Frito-Lay it wanted to audit a Dallas plant. It asked for employment records from 2006 and half of 2007, a request that later ballooned to include July 2005 through October 2009, company attorneys say. The company refused to provide the 2008 and 2009 records, saying the agency had overstepped its bounds. "Frito-Lay had already provided the Office of Federal Contract Compliance Programs more than two years of data, which is more information than is customarily requested as part of its audits," says Aurora Gonzalez, a spokeswoman for the company. "The purpose of this lawsuit is simply to require the OFCCP to abide by the guidelines established by its own Federal Contract Compliance Manual." Three other contractors have filed suits against the OFCCP in U.S. District Court since 2009, according to the Labor Department.
The Obama administration underestimates the cost and time involved in meeting such requirements, says Representative Phil Roe, a Tennessee Republican. Roe is chairman of the U.S. House subcommittee that called the April hearing where St. Jude's Bottenfield testified. "A small department that almost nobody has heard of is causing a lot of expense," Roe said in a phone interview. "The President said he wanted to make regulatory compliance easier and more transparent. But what's happening at the Department of Labor is, it's becoming much more onerous."
Indeed, business is booming for such vendors as Peoplefluent, which provides software and consultants that can help contractors monitor their affirmative-action compliance, says Randy Jesberg, a senior vice president at the company, which has headquarters in Raleigh, N.C., and Waltham, Mass. "We are growing, we are hiring, we have seen an increased demand for our software and services," he says.
Keeping up with affirmative-action regulations may be about to get even more complicated for companies. The Labor Department last year proposed requiring contractors to create targets for hiring veterans and set a goal of having disabled people represent 7 percent of their workforces. The proposals, which are under review, are part of a broader effort to help reduce high unemployment among veterans and the disabled. In June, the unemployment rate was 13.3 percent for people with disabilities and 9.5 percent for Iraq and Afghanistan veterans, according to Labor Department data. That compared with 8.1 percent for nonveterans, and 8.2 percent for people without disabilities. Employer groups have said that if enacted, the quotas may collectively cost contractors $2 billion to implement.
The expense and hassle has already prompted at least one company to get out of government contracting. Manheim, an automobile auction and services company, volunteered to leave government contracting after clashing with the Labor Department over whether it was subject to the mandates, says Nick Peluso, a Manheim senior vice president, in an e-mail. "Rather than continue to challenge that position and expend additional resources, we decided to voluntarily discontinue this small portion of our business."
For a nonprofit like St. Jude's, the bureaucratic costs of affirmative-action compliance mean less money for such missions as caring for kids with cancer, Bottenfield told legislators in April: "Any dollar not spent on administration," she said, "is always going to be made available for research or patient care."
Before it's here, it's on the Bloomberg Terminal.
LEARN MORE