Open Season on Wall Street Jobs
by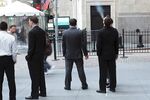 Since the dawn of humankind, Wall Street has abided by a social-professional compact. It goes something like this: give us your twenties, and a chunk of your thirties—eh, throw in some forties for good measure. Be sure to put in countless 92-hour workweeks, including all-nighters, and ideally the loss of all hope for your starter marriage. In exchange, we'll make sure you're financially set for life, complete with 24/7 use of our car service.
That deal, like unlimited wireless data and the internship booze cruise, is having a hard time surviving this Great Recession. Even as the banks have been bailed out, and money now costs next to nothing, the overriding economic torpor means there just isn't enough business to go around. Dealmaking is nowhere near buyout bubble levels. Ditto trading volumes: Across the Street, revenue from investment banking and trading fell for the seventh time in eight quarters. Europe could be the new Japan. And now China's slowing?
Put it all together—and borrow the classic euphemism—and the investment banks are now right-sizing their ranks. With first-half revenue at its lowest level since 2005, Goldman Sachs is hunting for $500 million in additional cost reductions. Bank of America, shotgun parent of Merrill Lynch, wants to chop $3 billion in annual i-banking expenses.
In the first six months of the year, Morgan Stanley set aside more than $3.5 billion to pay investment bank employee salaries, bonuses, and benefits, down 15 percent from a year earlier. Pay at the division that includes traders and bankers represented 57 percent of Morgan Stanley's revenue, compared with 47 percent in the first half of 2011—even as the unit's revenue plunged 28 percent. Year to date, Morgan Stanley has cut 3,272 workers and expects to have pink-slipped 4,000 by year's end. Its stock trades for $13, compared with $74 just before Wall Street's code red commenced in the summer of 2007.
Across the big moat, Western European financial firms have announced nearly 130,000 job cuts since the start of 2011, data compiled by Bloomberg show. Last year, Credit Suisse Group announced plans to cut 3,500 jobs and pare expenses by 2 billion francs ($2.04 billion); on July 18 it revealed an additional 1 billion francs of costs to be cut by the end of 2013 but didn't provide details of job losses. Its Swiss rival UBS also announced 3,500 job cuts last year.
Deutsche Bank, which has just less than 32,000 investment banking employees, is considering cutting about 1,000 positions as revenue declines, Bloomberg News reported on Thursday, citing a person with knowledge of the matter. If Deutsche doesn't cut any jobs, its revenue per employee at the investment bank may fall to the lowest compared with major rivals such as Goldman Sachs, UBS, and Barclays, according to J.P. Morgan estimates.
But Dirk Becker of Kepler Capital Markets told Bloomberg News that a fear of losing business to rivals is keeping the German financial colossus less blade-happy than it otherwise might be. "The investment bank depends on the economy, and if markets plunge, then it is clear they will have to reduce personnel," he said. "Reducing capacity less than their competitors means they will be better positioned to respond to an improvement."
There's an ideal that hasn't been heard from in years: Big Finance and the broader economy thriving together. Can you imagine?
Before it's here, it's on the Bloomberg Terminal.
LEARN MORE