Oops! Existing Home Sales Fall
June decline surprises economists
By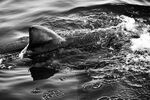 Just when you thought it was safe to go back into the water, a fin appears offshore. The National Association of Realtors reported Thursday that sales of previously owned homes fell 5.4 percent in June to an eight-month low, interrupting a string of favorable reports on the housing market.
It's bad news, all right, and does somewhat undermine the case for a housing recovery. But it does not mean that all the positive reports on housing, detailed by my colleague Matthew Phillips in a story called "Is Housing Back from the Dead?," are wrong.
Two things to keep in mind: Existing-home sales numbers are volatile, so it's risky to read too much into one data point. For example, one reason the June number was down so much is that the May number against which it was compared was revised upward.
Second, the drop is partly a function of lack of supply rather than weak demand from buyers. The National Association of Realtors says there was a big drop in the number of units put on the market via foreclosures and short sales. "Buyer interest remains solid," the agents' group says in a news release. The problem, it says, is that "inventory continues to shrink and that is limiting buying opportunities."
Lawrence Yun, the Realtors' chief economist, predicted that "the distressed portion of the market will further diminish because the number of seriously delinquent mortgages has been falling." The Mortgage Bankers Association said in May that the delinquency rate fell in the first quarter from the last quarter of 2011. To be specific, total inventories of homes for sale were down 24 percent in June from a year ago, notes High Frequency Economics' chief U.S. economist, Jim O'Sullivan.
Still, the 5.4 percent seasonally adjusted drop from May was a big miss. Economists had been expecting sales to increase around 1.5 percent.
The June numbers round out a weak quarter. After growing at a seasonally adjusted annual rate of 20 percent in the first quarter, they fell at a 3 percent rate in the April-June period, notes Daniel Morgan, a JPMorgan Chase economist.
"This was a weak report, and quite unexpected," writes Patrick Newport, U.S. economist for IHS Global Insight.
Concludes Newport: "The housing market is back on track. This does not mean that home sales and housing starts will be up every month. There will be bumps on the road. The market for existing homes hit one such bump in June."
Before it's here, it's on the Bloomberg Terminal.
LEARN MORE