MBA Alumni in the News: July 19
Louis Lavelle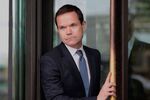 Each week, Bloomberg Businessweek brings you an update on how MBA alumni from top business schools are making news—the good, the bad, and the ugly. This week, graduates from UCLA, Northwestern, and New York University were among those making headlines:
Libor Mess Continues: Former Barclays executive and Queen's University MBA graduate Jerry Del Missier faced tough questioning during a parliamentary hearing about the bank's role in the Libor scandal. Earlier this month, Missier stepped down from his position at the bank after it settled claims with U.S. and U.K. authorities that it had manipulated the London interbank offered rate, or Libor, which is used to set interest rates on trillions of dollars of financial products including home loans and credit cards.
Recession Looming: Bill Gross, who runs the world's biggest mutual fund, at Pacific Investment Management Co., told his Twitter followers that the U.S. is "approaching a recession when measured by employment, retail sales, investment, and corporate profits." Gross, who manages the $263 billion Pimco Total Return Fund, is a 1971 MBA graduate of UCLA's Anderson School of Management.
Can't Get No Satisfaction: Dissatisfied with the performance of Chief Executive Officer Bob McDonald, Procter & Gamble directors were said to be discussing a leadership change at the company. The discussions coincide with activist investor William Ackman taking a stake in the company. P&G cut forecasts three times this year. McDonald received his MBA from the University of Utah's Eccles School of Business.
Scream Buyer Revealed: New York financier Leon Black was revealed as the buyer who paid $119.9 million for Edvard Munch's coveted masterpiece The Scream at a Sotheby's auction on May 2. Black, who heads the investment firm Apollo Global Management, is an MBA alumnus of Harvard Business School.
The Bain Chronicles: Presumptive GOP presidential candidate Mitt Romney, another Harvard alum, has been saying he left Bain Capital in 1999 to run the 2002 Winter Olympics. But documents unearthed by the Boston Globe showed he was the company's "sole stockholder, chairman of the board, chief executive officer and president" through 2002.
No Cost Cuts, No Bonuses: Bill McDermott, co-chief executive officer of SAP and an MBA graduate of Northwestern University's Kellogg School of Management, told employees of the business-management software company that their bonuses may be at risk if SAP can't reduce expenses. McDermott and co-CEO Jim Hagemann Snabe both received pay raises of more than 40 percent for 2011 and share-based bonuses of $1.2 million for both 2010 and 2011.
Job Cuts Expected: Lockheed Martin CEO and Columbia Business School MBA graduate Robert Stevens said he may need to cut 10,000 jobs if Congress slashes the federal budget. Projected defense cuts of $500 billion are part of $1.2 trillion in automatic spending reductions over ten years, when the Budget Control Act goes into effect in January, unless Congress and President Barack Obama agree on an alternate plan.
Walgreen Announces Change at Top: Alan McNally, an MBA graduate of York University's Schulich School of Business, stepped down as nonexecutive chairman at Walgreen. McNally, a former CEO of Harris Bank, has served on the Walgreen board since 1999 and was nonexecutive chairman since 2009. He's being replaced by former McDonald's CEO James Skinner.
R.I.P.: Former Bloomingdale's longtime CEO Marvin Traub, a 1949 Harvard MBA graduate, died of bladder cancer at 87. Barton Biggs, a money manager who had a 30-year career at Morgan Stanley and was a 1962 MBA graduate at New York University's Stern School of Business, succumbed to complications from a bacterial infection. He was 79.
Join the discussion on the Bloomberg Businessweek Business School Forum, visit us on Facebook, and follow @BWbschools on Twitter.
Before it's here, it's on the Bloomberg Terminal.
LEARN MORE