Hank Crumpton on Life After the CIA
The former chief of the CIA's most secretive division—and Department of State ambassador at large—on his 24 years in the shadows and life outside of them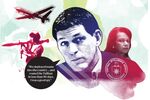 I grew up in a small town in Georgia and became drawn to history and geography and warfare at a young age. That fascination grew, and I wanted to serve my country and decided that the CIA was the best way to do that. I joined when I was 23. I served for ten years in Africa undercover. I had a tour in Europe. I did a lot of work in the Middle East and Central Asia. The first 15 years or so was focused on the recruitment of foreign nationals to the CIA to collect secrets. I was asked to lead the CIA's campaign in Afghanistan after 9/11. We deployed teams into the country just days after [the attacks] and routed the Taliban in less than 90 days. I was a good spy. I loved it.
I had no plans to leave the CIA, but I met Secretary of State Condoleezza Rice and did some work with the president and her. I got to know her. She asked me to come join her team and serve as the ambassador at large and be the coordinator for counterterrorism. I was flattered. I wasn't completely, "I want to do the job," although I was intrigued by it. It ultimately was about the service. For me to tell the secretary of state and the president, "No"—I just found that impossible to do.
I retired from government service five and half years ago at age 50. The last private-sector work I had had was manual labor at a construction site before and during college. After retiring, I spent a year working solo. I found it more enjoyable than I thought. I was fairly quickly able to earn more money than I ever thought possible through consulting and speeches and serving on boards. I started Crumpton Group in 2008. The consulting was about emerging, frontier markets.
In the fall of '01 it was a U.S. and Afghan victory. There is a tribal society there. It looks different and functions differently than our city council, but there is some local authority, particularly in absence of central governing authority. We harnessed those forces in 2001. With U.S. government support, American businesses should have been more competitive in these markets. At that time it was a missed opportunity. I know that issues of corruption and risk and complexity really can challenge and, in some cases, scare American companies and investors, but American companies need to be there, because we have so much to offer. — As told to Keenan Mayo
Before it's here, it's on the Bloomberg Terminal.
LEARN MORE